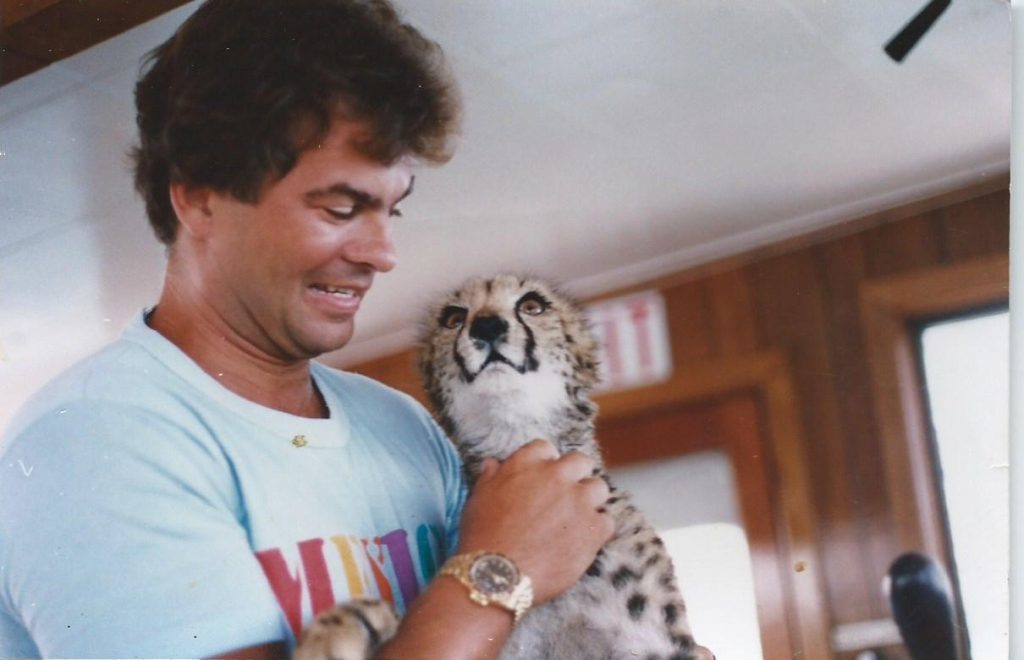 Robert Stone was just 15 when he ran away from home with only £30 in his pocket. Over the next 25 years he amassed a multi-million pound fortune through various entrepreneurial ventures, mostly on the wrong side of the law. But when the law caught up with him, he lost everything. Now the Aberdeenshire dad of two has penned his incredible life story in a book as a lasting tribute to his children and his late wife, Linda.
I spent a good deal of my life operating on the wrong side of legality and even though I left that life behind more than 20 years ago, my past still haunts me and my family," says Robert, who first came to Aberdeen in 1973 as a pioneer saturation diver. "By sharing my story I may help others from following in similar footsteps."
It was the beginning of the oil industry in Scotland when he first came to Scotland, staying here through the 1970s and 80s and eventually meeting Linda from St Andrews and settling in Aberdeenshire. Now approaching his 61st birthday, he's written an account of his incredible life story, a memoir so riveting three movie production companies are currently considering it for development.
Canadian-born Robert had a tough upbringing. "I had a very poor and turbulent family life," he says. "My parents had married way to young. My alcoholic father left when I was about 11. My mother was stressed out trying to raise two kids with no money. I worked on construction sites after school and in the summer holidays from the age of 12 to help."
He was, however and remains, an optimist. As a teenager he clung to a romantic idea of what his life could be and found escape in, 'Diving to Adventure', the story of the renowned diver and explorer Hans Hass. He dreamed of escaping to the Caribbean, spearing fish to eat while living on a beach. Several times he tried to run away from home but was always caught and returned home, then one night he made it across the border.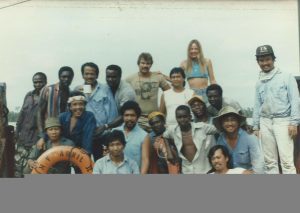 SMUGGLING RING
Arriving in the Bahamas, he thought he'd made it. "I was so naïve. I thought I could just camp on the sand, eat fish and dive. That first day was fantastic but by nightfall I was sunburned and half starved." When it got dark he crawled under an upturned boat and cried himself to sleep.
His "luck" turned the next day when Hank, a diving instructor at one of the hotels took him under his wing. All was fine until immigration officers came looking for him and he was forced to leave in a hurry, catching a ride on a 39-foot Cigarette boat. The guys took a shine to him and Robert was taken on by a smuggling ring.
"They brought marijuana in on freighters from Colombia to the Bahamas before offloading on to these go fast boats," he says. "I'd make 75mph night runs across The Gulfstream to Florida with a boat load of bales. I got $10,000 dollars cash each trip. I made my first million before I turned 18."
After a couple of close shaves with the law he decided to move to New Orleans, go straight and pursue his original dream of becoming a commercial oil-field diver. Over the next 12 years he travelled the world and became one of the early pioneer saturation divers in the North Sea. In Scotland he met Linda and in 1982, they settled in Aberdeenshire.
Those early days in the North Sea were very dangerous with 29 divers losing their lives between 1973 and 1979. He lost several friends in diving accidents over the years, but it was his own near-miss, when he was all but killed in an underwater explosion, that persuaded him to quit diving.
He'd heard that Hondurans fishing off the coast of Nicaragua could no longer land their catches due to the civil war there so he bought an old supply vessel that was cold stacked in a canal in Harvey, Louisiana, filled it with diesel and headed south to trade fuel for lobster and shrimp off the war torn coast.
"I hired a few of my old smuggling buddies, fresh out of jail, to help me with the business. Guys who would take risks. We were making a killing as fuel only cost us 10 cents a gallon and we selling it for two bucks. Also we paid local price for the shrimp and lobster and sold it for three times as much in the US. Unfortunately the Honduran Navy arrested us on suspicion of running guns and drugs. It took months to sort out and a lotta money."
Next came the successful salvage of treasure from a Spanish galleon off Florida and a venture tuna fishing in the Gulf of Mexico which proved extremely lucrative. Within two years he was running 27 ships with 500 employees and "raking in the cash."
With Robert making so much money, and hiring ex-cons, Drug Enforcement officials assumed he was in the drugs business. "I got a call one day to say they'd tipped my catch onto the runway in Belem and were chopping it up with machetes."
Further shipments were torn apart. Grimacing he says: "They destroyed a million and a half dollars of fish. My cash flow was ruined. Thought they'd find packages of cocaine. Then the press painted me as the head of a huge criminal organisation. They blackened my name and the business went under. The guys and I figured, if this is what you get for going legit, we'll go back to what we're good at."
He then focused his skills and energies on a massive marijuana-smuggling operation. "We harvested 27,000 pounds of pot in southeast Asia, bribed the Vietnamese Navy and I captained the vessel across the South China Seas. All the way to Alaska. And we got away with it."
His desire to re-build his fortunes drove him to make a string of wrong choices.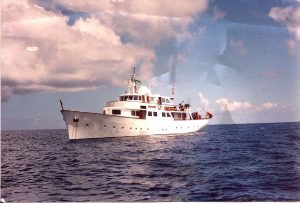 MIDNIGHT OIL DEALS
Flush with profits from the marijuana gig, he started up an oil-field supply company in Nigeria and soon found himself conducting midnight oil deals with gun-toting bandits in the Nigerian swamps. "They were gangsters protected by corrupt police and military officials." Within a couple years he had 23 ships, two tankers and 1000 employees. Once again he hired his smuggling buddies to help. Once again the US authorities suspected drugs were the source of his success.
"Things could have turned out so differently had I not been loyal to my old buddies. And if I'd resisted the temptation." He means the lure of the quick fix and "easy" money of marijuana smuggling. When his two children were born he decided to change his ways, sell out and stay permanently in Scotland. That's when his closest friend, jealous of his success and stable family life, turned government informant. His aim was to send Robert to jail and take over the company. Based on the information he provided, an Organised Crime Drug Enforcement Task Force investigation was begun that involved Interpol, US Customs, DEA, IRS and Scotland Yard.
Arrested in Africa, Robert bribed his way out of jail and went into hiding in the Swiss Alps with his family in tow. His personal and company bank accounts were now frozen. Desperate for cash, he drove to Liechtenstein, where he had money in secret accounts opened with false ID's and safe-deposit boxes stuffed with cash. His lawyers told him bankers refused to transfer the money saying the Government had frozen the accounts. He knew they were lying so forced the lawyers at gunpoint to hand over the contents of the safety deposit boxes. The accounts could wait.
As his house of cards started to collapse, he became frightened for his wife and family. "Linda was my one constant," he explains, "but even her I put at risk. She knew nothing about the businesses and had no idea about the marijuana trip. I know it was wrong of me, but if I'd told her the truth that would have made her a conspirator in the eyes of the law."
Subject of an international manhunt he was finally arrested in Geneva – as were his family. "Hearing my little boy screaming for his mummy as he was taken away," he remembers, "that still haunts me."
Robert was extradited to the US six months later, where he forfeited all the properties, ships and bank accounts in his possession – everything except his home in Scotland – and the remaining deposits in Liechtenstein, which he had hoped would be his secret nest egg. He was sentenced and served time in a Federal Penitentiary.
His return to Europe came about when the lawyers in Liechtenstein finally went to the police and he was extradited there on completion of his US sentence to face further charges. "By this time the few million I had left in the accounts meant nothing. Nothing at all. I wanted my freedom and I wanted to return to my family in Scotland."
Appearing in court, he threw himself on the mercy of the Judge, and within hours he was a free man, on a flight to Aberdeen – with £30 in his pocket. Robert shrugs at the memory. "So I guess I'd kind of broken even. Except I had my family. That was what I could salvage from all this.
"My wife Linda had stood by me. So had her father. The point is, prison changes you. You have all that time to think about what you've done in life, how selfish you've been. You get your priorities in order. My priority was my family, my real family."
Robert's time with his wife, however, was to be cruelly cut short. 14 years ago, Linda, an active, sporty lady who didn't drink or smoke had a stroke and tragically died, aged 45.
BOWEL CANCER
"It was tough. I don't know how the children and I got through it. I'd just begun a new international venture in the oil industry but I had to abandon all that to be there for my kids. It was the only way. Then six years ago I was diagnosed with bowel cancer. People tell you when you receive such news, it's a wake-up call."
He laughs. "Yeah, like I needed another wake-up call. First going to prison, then losing Linda, and now cancer? I looked up at the skies and shouted, 'Hey God. I'm AWAKE."
He is now in remission has recently found love again, and decided the time is right to publish his life story. "Because I don't want my children to think there was anything the least bit romantic in what I did. I don't want them to get wrong ideas.
"So many people from my past have died; so many places that meant something to us have been destroyed. There were elements I had chosen not to remember – and I uncovered some painful truths during my research. But I've tried to be as true to the story as I can. There are bits in the book that I'm so ashamed of and can still make me cry. What I learned is that past mistakes can come back to haunt you and ruin your life. You need solid foundations to build a legacy and if you don't have them you will end up with nothing – like I have."
Recommended for you

At what point does Big Wind become a pariah?