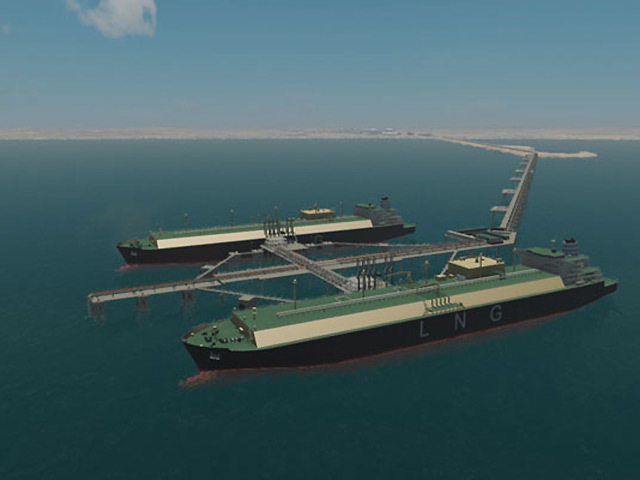 Chevron Corp. halted output at its $54 billion Gorgon liquefied natural gas development for the second time this year after a gas leak at the site, the latest problem for the Australian mega-project.
The plant, located on Barrow Island off Australia's northwest coast, evacuated workers after a minor gas leak. Chevron will make repairs to the low-pressure flare system and acid-gas removal unit before restarting production in the coming week, it said Friday in an e-mailed statement. The terminal, which is also partly owned by Exxon Mobil Corp. and Royal Dutch Shell Plc, still plans to load an LNG cargo in the coming days.
"Another short delay is relatively inconsequential for a project that Wood Mackenzie estimates will generate cash flows of nearly $7 billion a year for the partners over many decades," Matt Howell, a Perth-based analyst for industry consultant Wood Mackenzie Ltd. said by e-mail. "But this latest event does introduce doubts about the facility's reliability and ability to produce at capacity for that extended period."
The largest resource development in Australia's history faced delays, cost overruns and labor unrest during construction. It then started exports to customers in Asia amid the worst energy slump in a generation. The company in April temporarily halted output just two weeks after making the first shipment, citing a malfunction with the propane refrigerant circuit, used to cool gas supplied to the plant.
Production of LNG restarted this week, Chevron said June 27. The LNG tanker Marib Spirit has been sitting offshore Barrow Island since June 26, according to ship-tracking data compiled by Bloomberg.
After the leak, workers were told to leave at about 3 a.m. local time, Mick Buchan, state secretary for the Construction, Forestry, Mining and Energy Union in Western Australia, said by phone.
Recommended for you

Australia LNG unions give notice to resume strikes at Chevron sites