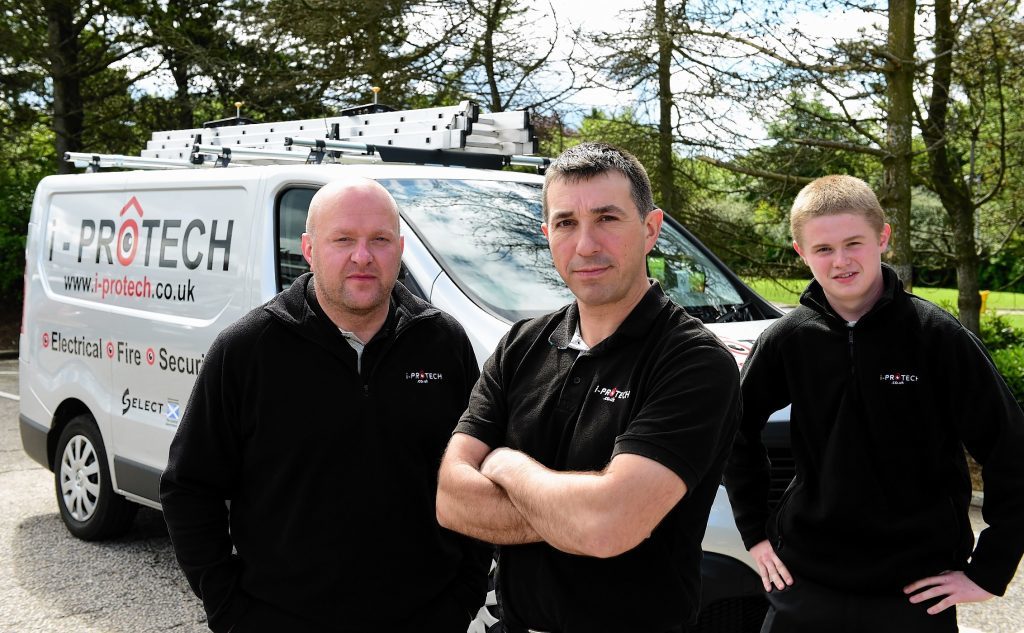 Two north-east electrical engineers are celebrating one of their biggest contract wins since ditching oil and gas careers to set up their own company in Aberdeenshire.
Stuart Munro and Jim Middleton founded i-Protech Technology in October after becoming disillusioned with the energy sector.
Their business, which specialises in electrical and security services, has been growing quickly and has worked for a range of businesses in Aberdeen city and shire.
In a recent milestone for the firm, i-Protech was handed a contract worth "tens of thousands of pounds" to wire up a civil engineering contractor's new office near Westhill.
Nicol of Skene, which has outgrown the converted bungalow from which it operates, expects the new facility to be ready in autumn.
It has chosen i-Protech to install, commission and maintain fire and intruder alarms, and door and barrier access systems.
The contract award follows on from earlier work i-Protech carried out for Nicol of Skene, namely, checks on the contractor's electrical handheld tools.
Jo Greig, business systems manager at Nicol of Skene, said: "We chose Stuart and Jim for their high quality, friendly and efficient service. We had no hesitation in choosing them and look forward to working with them again."
Other clients to have called upon i-Protech include CAN Offshore, which is one of Mr Middleton's former employers, transport firm CF Jennings, the Newmachar Hotel, along with a number of car garages and showrooms.
The firm has also been busy with safety checks on electrical and fire detection systems at rental properties.
And with new contracts rolling in, i-Protech is doubling the size of its workforce.
Yesterday the company took on its first apprentice, Ben Thomson, 16, and on Monday will take on another employee.
Mr Munro, who has registered the business to his Westhill residence, also hopes to move the company into its own office.
Co-owners Mr Munro and Mr Middleton said they were glad to have left oil and gas behind and put the company's early success down to hard graft and long hours.
Mr Munro, who worked for an oil and gas major prior to setting up i-Protech, said: "It's been a huge learning curve to break out and try something new. I had hair and was slimmer before we started this.
He added: "We're trying to build a strong base for our company. We want to be thought of as a credible company that's one of the big game players, and we're on our way to becoming one.
"We know people have high expectations and we've got high standards ourselves. We'll strive to do a really good job to satisfy our customers."