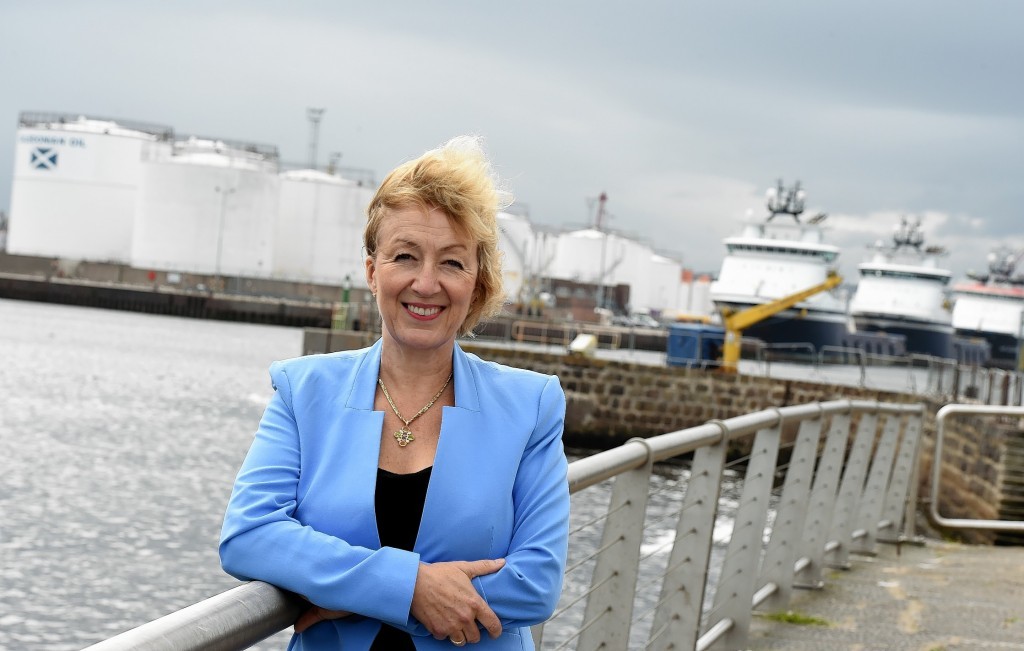 Aberdeen MP Callum McCaig today accused Tory leadership hopeful Andrea Leadsom of taking a "sabbatical" from her day job as energy minister.
The SNP's energy spokesman said the oil and gas industry was still facing a "very trying time" and needed the full attention of the UK Government.
He also cast doubt on Mrs Leadsom's ability to be prime minister, given the "instability" during her time at the Department for Energy and Climate Change (Decc).
The former Aberdeen City Council leader pointed to a recent report by the Commons energy and climate change committee which concluded there had been a dip in investor confidence in the sector since the general election.
He said: "We are still in a very trying time for the oil and gas industry. There has been some positive movement from industry itself but they are still looking to engage with government, which is hard to do when the minister responsible has basically gone on sabbatical, campaigning first for Brexit and now her own bid to become prime minister.
"It's quite telling that at the summit hosted by Aberdeen City Council last week, the UK Government was represented by Lord Dunlop who attended via video conference and apparently was only on the call for half an hour of a two-hour meeting.
"It doesn't send the message to industry that they are on the ball and taking the concerns they have seriously or actively pursuing solutions that will help the long- term future of the sector."
Mr McCaig, who represents Aberdeen South, said the most pressing issue was exploration and securing investment into the North Sea to identify new fields.
He added: "Everyone does have the right to pursue other things, but they need to do their day job in the process.
"We need to know who's in charge, who is focusing on this."
He also criticised Energy Secretary Amber Rudd who visited UK energy capital Aberdeen for the first time last month after more than a year in her ministerial post.
Asked about Mrs Leadsom's potential as the next Tory leader and prime minister, Mr McCaig said he found her pleasant on a personal level.
But highlighting the investor confidence report, he added: "It doesn't bode particularly well for a government run by Andrea Leadsom, if the department she is involved in is creating as much instability as it has been, as has been acknowledged by a committee with a Conservative majority."
A spokesman for Mrs Leadsom, who has the backing of Boris Johnson, declined to comment.
But Decc insisted the "broad shoulders of the UK are 100% behind" the industry and the thousands of workers and families it supports.
A spokesman added: "We have established the Oil and Gas Authority to drive greater collaboration and productivity within industry, and in the last two budgets we announced radical packages of tax measures worth £2.3billion to ensure the UK Continental Shelf (UKCS) remains an attractive destination for investment.
"No other government has made fiscal changes as extensive in response to falling oil prices.
"In January this year, we announced a further package of measures including another £20million funding for a further round of seismic surveys, and our strategy to maximise economic recovery of the UKCS.
"We look forward to the industry capitalising on this, to deliver efficiencies and make the industry more robust now and for the future."
Former businesswoman Mrs Leadsom is up against frontrunner Home Secretary Theresa May and Justice Secretary Michael Gove for the top job.
Former defence secretary Liam Fox was eliminated after coming last in the first ballot of MPs on Tuesday night.
And Inverness-born Stephen Crabb, the work and pensions secretary, pulled out after coming second last, pledging his support to Mrs May.
MPs are due to vote again today (Thursday), whittling the field down to a final two contenders. The choice will then be put to the Conservative party membership with the winner expected to be announced in September.
Mrs May, who nominally backed Remain during the referendum campaign, is the favourite, but many in the party feel the UK's exit from the EU should be overseen by a Brexiteer.