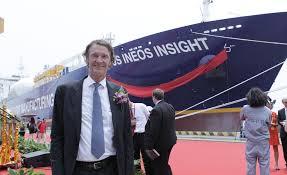 Brexit will not affect plans for Ineos to set up UK headquarters once again, according to one of the company's bosses.
It comes after voters decided almost two weeks ago to leave the European Union.
Back in March Ineos had said it planned to move its headquarters back to the UK after six years in Switzerland.
Businessman Jum Ratcliffe said at the time his company would move its base back to Britain "within three years" with an office in London forming its global base.
Speaking to Platts in response to whether Brexit would impact on its plans, Crotty said:"No, not at all. To be clear, what we've actually said was we are locating a large number of our offices back in the UK. We're going to end up with some based in Switzerland, some based in the UK, probably 50-50 by the time we're finished.
"A bit like Shell Anglo-Dutch, we'll be Angle-Swiss and we wouldn't see Brexit impacting that because the businesses that we are primarily focused on in the UK are ones that have a very high UK interest such as our oil and gas business etc.
"We've now got joint headquarters, London and Geneva."
Crotty also said he hoped Brexit would have a positive impact on the development of the UK's shale industry.
He added:"We hope Brexit will affect it positively, we're of the view that even pre-Brexit the UK energy policy is in desperate need of significant overhaul and the UK's reliance on imported gas in particular is a real weakness in the economy and the government see that as well which is why I think they've been so supportive in the shale gas development in the UK.
"I think post-Brexit that's even more important and even more critical."
Recommended for you

2020 a most productive and unusual year for electrolyser maker ITM