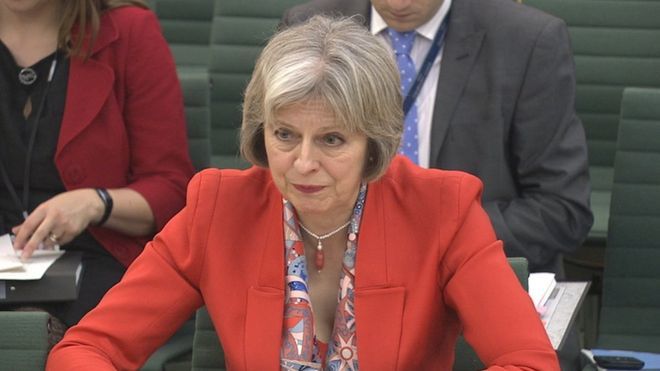 The prime minister said she would be prepared to authorise a nuclear strike as she warned that Jeremy Corbyn's opposition to maintaining the UK's deterrent is "quite wrong".
Theresa May, making her first Commons speech since entering Number 10, said the "very real" threat posed by Russia and North Korea meant the UK could not afford to "relax our guard".
But Mr Corbyn repeated his position that he would not be prepared to press the nuclear button if he was in Number 10, arguing that threatening "mass murder" was not the way to handle international relations. In a swipe at the Labour leader, Mrs May said: "Some people suggest to us that we should actually be removing our nuclear deterrent.
"This has been a vital part of our national security and defence for nearly half-a-century now and it would be quite wrong for us to go down that particular path." Directly challenged in the Commons on whether she would be prepared to authorise a nuclear strike that could kill thousands of "innocent men, women and children", Mrs May firmly replied: "Yes."
Setting out the case for remaining a nuclear power, the prime minister said: "The threats from countries like Russia and North Korea remain very real. As our Strategic Defence and Security Review made clear, there is a continuing risk of further proliferation of nuclear weapons. We must continually convince any potential aggressors that the benefits of an attack on Britain are far outweighed by their consequences." Mr Corbyn reiterated his opposition to the potential use of the weapons – one of the key elements of the doctrine of nuclear deterrence.
He said: "I make it clear … that I would not take a decision that kills millions of innocent people. I do not believe the threat of mass murder is a legitimate way to go about dealing with international relations."