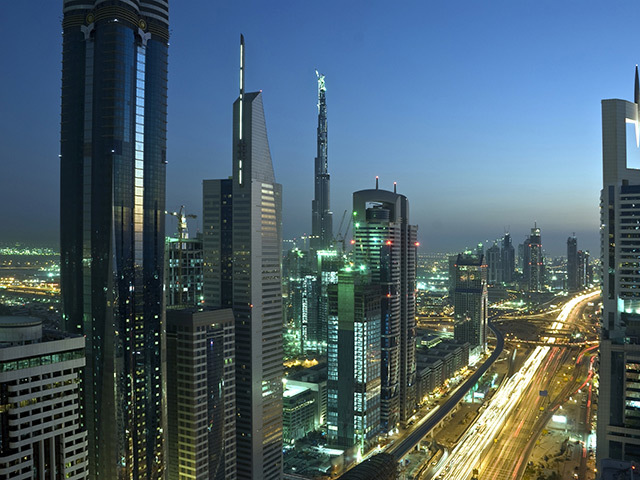 Kier Riemersma and his wife sat down a few months ago to make a difficult decision. The American couple, who lived in Dubai for over a decade, would wind down his real estate business and move back home to Denver, Colorado.
"Frankly, we struggled in the past year and half," said Riemersma, 46, who had to dismiss his five employees in March. "We probably chased 20 major assignments and got only one. Most of the others we didn't lose. The projects never progressed and simply weren't awarded."
A dip in the construction industry is not new in the emirate, a desert metropolis hailed for developing the most diversified economy in the Middle East. But even as it's forecast to weather a regional slowdown better than others, a combination of an oil crisis battering Gulf neighbors and weaker currencies affecting major overseas property investors risk taking the gloss off a city that has been a promised land for at least two decades.
"Dubai is exposed to developments in the rest of the Gulf economies, where we think growth will slow and remain sluggish in 2016 and 2017," said Jason Tuvey, an economist at Capital Economics in London.
Although official data on jobs isn't publicly available, stories of moving trucks and farewell parties are increasingly common in the city, the United Arab Emirates' business hub. Banks in the U.A.E. may have cut as many as 1,500 jobs, according to financial recruiters and Bloomberg calculations earlier this year.
T.D. Williamson, Inc., a U.S.-based pipeline-repair company, said in February it reduced an unspecified number of jobs in Dubai as customers scaled back on projects. Many others in the city's shimmering skyscrapers are freezing hiring. Jumeirah Group's restaurants were the latest to reduce staff.
Spending in the lavish malls is rising less quickly and rents on apartments is dropping faster than anytime in the last two years. It's also taking much longer to lease larger and more expensive homes, according to Jesse Downs, managing director at Phidar Advisory, a real estate consultancy firm.
Flagship carrier Emirates reported its first annual sales decline in at least a decade mostly due to the stronger dollar. While business has since picked up, the airline said it's under pressure as it reduces fares and faces fewer bookings from the oil industry. Known for luxury travel, it's being forced to adapt and may introduce premium-economy seats.
Dubai went on a borrowing binge to cut its reliance on oil. After a spell of breakneck growth, a real-estate crash pushed the emirate to the brink of default in 2009. Authorities have since tightened regulations. Growth has rebounded to around 4 percent last year.
The current slowdown is "very broad-based, but Dubai is still better off than most of the region," said Razan Nasser, senior Middle East and North Africa economist at HSBC in Dubai. "The oil blow is much softer than those seen in hydrocarbon economies such as Saudi Arabia and Bahrain."
Authorities have repeatedly said that the emirate's economy is strong enough to cope with the slump better than others. The Monster Employment Index, a jobs tracker, showed that while hiring across the Gulf has slowed down in June, the U.A.E. market "remains promising."
Dubai's gross domestic product will likely grow 3.3 percent this year — more than twice as fast as Saudi Arabia, according to the International Monetary Fund. Domestic investments, boosted by preparations for hosting the Expo 2020 trade fair, will accelerate growth to more than 5 percent by 2020, the IMF estimates.
"The IMF forecasts for this year look reasonable, but further out the fund is probably a bit optimistic," said Tuvey of Capital Economics.
The U.K. vote to exit the European Union also risks reducing the number of Britons' demand for real-estate, according to Raza Agha, VTB Capital's chief economist for the Middle East and Africa. "The risks of growth undershooting expectations are higher in the aftermath of Brexit," he said.
Hotels, which include the sail-shaped Burj Al Arab and Roman-inspired Palazzo Versace, are bracing for a drop among tourists from Europe and the U.K.
Western Europe was the second-largest source of tourists to Dubai by region, accounting for 23 percent. The U.K. made up 8 percent of total visitors. That follows a drop in Russian tourists two years ago when the ruble slumped. Chinese tourists, long billed as the industry's potential savior after the Russians stopped coming, fell 13 percent in the first quarter of this year.
The U.K. vote has forced tour companies to adjust their prices to remain attractive to travelers just hit by a XX percent dive in the value of the pound.
"We're preparing for more balance in tourism package for British tourists so they don't really feel the pinch," said Ghassan Aridi, chief executive of Alpha Destinations. "We have no choice but to offer attractive packages and drop prices."
In contrast to emigrating expats like Riemersma, other residents are finding ways to cut corners.
Some parents of children enrolled at premium schools are switching to cheaper ones "because that is enabling them to stay in Dubai," James Mullen from Which School Advisor said. A top British curriculum school can cost an average 70,000 dirhams ($19,000) a year, while a recently opened school that charged $4,628 had all spaces filled immediately, he said.
Riemersma said leaving was a "logical decision." His wife moved back to the U.S. ahead of the family after finding a job in Denver.
"Leaving is an absolutely hard thing to do but we figured its going to be at least another couple years of economic hardship in Dubai at a time the economy is really strong in Colorado," he said.