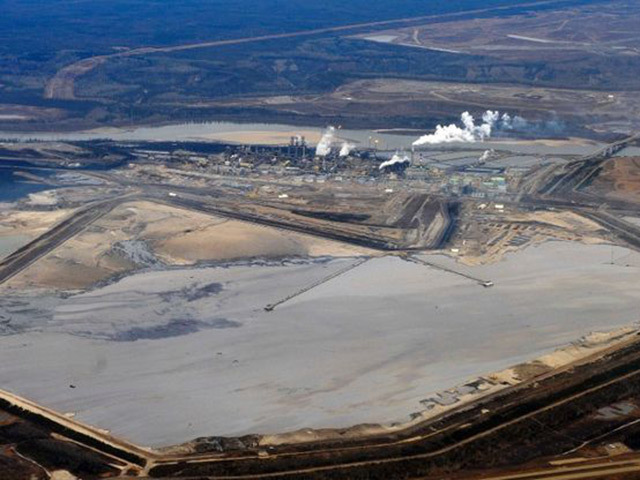 Suncor Energy Inc. plans to hold total greenhouse gas emissions at current levels through 2030 even as it boosts crude production by targeting a reduction in carbon output per barrel.
By cutting emissions per barrel by about 30 percent, the oil-sands producer will be able to cap its greenhouse gases at about 21 megatons a year, according to the company's sustainability report released Thursday. That figure that would grow to as much as 27 megatons without the planned intensity reductions.
"It's definitely what I would call a 'stretch goal,' in the sense that we will have to stretch ourselves in new directions to achieve it," Fiona Jones, Suncor's general manager of sustainability, said in a question and answer page on the company's website.
"There will undoubtedly be critics who'll say it's too little over too long a timeframe — and that our goal should be to get off hydrocarbons entirely," she said. "But if you accept the premise that there will continue to be a need for responsibly developed oil, I think you would acknowledge that this is a sincere attempt to respond to that need."
Canada's largest oil producer by market value aims to reach its goal by switching to lower-carbon fuels such as natural gas and using renewable electricity and co-generation. Annual spending on research and development of C$200 million ($152 million) will help advance new technology, the company said.
Some of the emissions-cutting technology the company is considering includes biofuel-based diluent and solar panels on its Petro-Canada branded gas stations, Suncor said.
"The target is positive but this is going to be very challenging," Simon Dyer, Alberta associate regional director at the Pembina Institute, an environmental lobby and consultancy group, said by phone. "There's been no improvement in emissions for the industry on a per-barrel basis for the past decade despite all the talk about new technology."
Suncor Chief Executive Officer Steve Williams has set out to make oil sands production cheaper, as well as less carbon intensive, in a bid to make the company the "supplier of choice" amid rising global demand for petroleum. Still, there's no plan to reduce Suncor's total emissions, even as carbon becomes one of the most important considerations facing oil producers.
Canadian oil-sands producers are under increasing pressure from domestic regulators and environmental groups to cut the pollution associated with digging up or steaming bitumen out of the ground. The scrutiny has hampered pipeline projects like TransCanada Corp.'s Keystone XL and Enbridge Inc.'s Northern Gateway in addition to the industry's goal of exporting to Asian markets.
Last year, a group of six large competitors including Royal Dutch Shell and Total SA called on governments to provide stronger and more coordinated carbon pricing. That was followed by a new policy in Alberta that will boost the price of carbon to C$30 a ton and cap oil-sands pollution and an agreement at the United Nations climate talks in Paris to limit global emissions. Suncor worked with the province to develop the policy.
"I believe in climate change and that the production and consumption of fossil fuels is contributing to this pressing global challenge," Williams said in a statement Thursday announcing the report. "Doing nothing is not an option."
Between 2009 and 2015, the producer boosted energy efficiency by 9 percent, falling short of an earlier target of 10 percent.
At the same time, Suncor is doubling down in the oil sands after boosting its stake in the Syncrude bitumen mine to a majority and increasing ownership of the Fort Hills operation. The company plans to boost daily production to more than 800,000 barrels in 2019 from almost 600,000 barrels in 2015 as it works to lower costs and emissions and win customers in new markets.
"Williams is making a heroic effort, but he's facing a market that doesn't need his product," said Michal Moore, a research fellow at the University of Calgary's School of Public Policy. "The world is awash in cheap oil. He certainly can't not care about environmental issues, but he's facing an uphill battle to even get his product out."
Recommended for you

Harbour Energy poised to drill over 20 development and infill wells in 2022