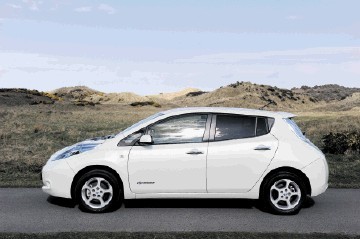 The UK will have more charging locations for electric cars than gasoline stations in 2020, according to Nissan Motor Co. Ltd.
The automaker projects that the nation will install 8,201 chargers before the end of the decade, according to a report on its website. It expects the number to overtake petrol stations in August 2020.
"We believe the tipping point for mass EV uptake is upon us," said Edward Jones, electric vehicle manager at Nissan Motor GB Ltd. "As electric vehicle sales take off, the charging infrastructure is keeping pace."
Electric vehicle adoption has accelerated in recent years, with growth seen in Europe and China. Sales in 2015 were estimated to be 424,000 vehicles, according to Bloomberg New Energy Finance. The research unit forecasts that electric vehicles will reach 20 percent of new light-duty vehicle sales globally by 2030.
"The crossover point is definitely feasible by 2020, and we expect the number of EV charging stations to accelerate further as EV adoption rises," said Colin McKerracher, head of advanced transport analysis at Bloomberg New Energy Finance. "However, it's worth noting that the throughput — the number of cars that can be refueled in an hour — of an average petrol station is significantly higher than that of a EV charging station."
Nissan's figures assume a steady decline in petrol stations in the UK About three quarters have been shut down in the last 40 years, the automaker said. By the end of 2015, there were 8,472 fuel stations in the UK, down from 37,539 in 1970.
The Japanese automaker has a range of electric cars such as the Leaf and E-NV200 options.
Recommended for you

David Beckham buys 10% of UK electric vehicle firm Lunaz