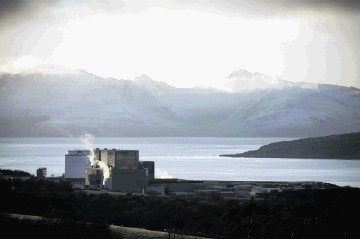 Representatives of the Civil Nuclear Constabulary (CNC) are going to court to seek a ruling that means officers can retire at 60.
The Civil Nuclear Police Federation represents 1,250 police officers who protect nuclear materials in the UK and who may be forced to work until they are 65 under a new law.
The retirement age for most UK police officers is 60.
The federation will ask the High Court on Wednesday to determine whether or not its members are "members of a police service" for the purposes of Section 10 of the 2013 Public Services Pensions Act and therefore entitled to the same retirement age as other police officers in the UK.
The federation has said that if such a ruling is not granted, under changes to public service pensions due to take effect next April, officers could eventually have to work until they are 68 in line with government policy for public service employees.
Chief executive of the Civil Nuclear Police Federation Nigel Dennis said it was "regrettable" that it had been forced to take legal action.
He said: "As yet we have been unable to get a decision from government to accept our professionally-supported argument that it is almost physically impossible for a CNC officer to serve beyond 60.
"What seems not to be understood is that our members are fully-trained authorised firearms officers. The high standards of physical fitness and weapon proficiency are mandatory throughout a career in the CNC and are increasingly difficult to maintain as officers age.
"This makes our force unique within UK policing, as in other forces firearms officers can relinquish their weapon authorisation at any time and all UK officers can retire at 60, a decision made by the present Prime Minister Theresa May when Home Secretary in 2011.
"As a police force the CNC is the fittest body in the UK because of our role in protecting nuclear assets and our more recently acquired role of protecting the wider public against terrorist outrages."
" It makes no sense that we should be saddled through inappropriate legislation with a retirement age which we have little or no hope of reaching. Neither can I believe that the public will feel protected if eventually we have aggressively-armed police officers in their mid-60s being deployed against terrorists."
Recommended for you
X

'Hydropower left in the cold by official subsidy schemes'