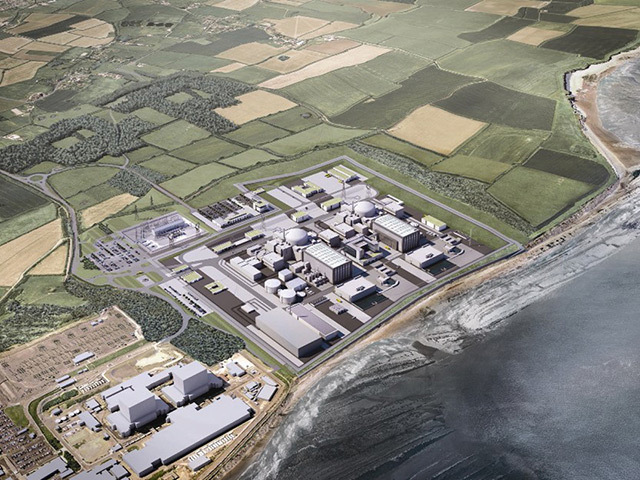 French President Francois Hollande's government is concerned that discussions on the sidelines of the Group of 20 talks in China will sound the death knell for the Hinkley Point nuclear power project in the U.K., according to people involved in the talks.
The 18 billion-pound ($24 billion) plant, developed by Electricite de France SA and one-third funded by state-owned China General Nuclear Power Corp., is likely to come up when U.K. Prime Minister Theresa May, France's Hollande and Chinese President Xi Jinping attend the Group of 20 summit on Sunday and Monday in Hangzhou, China, the people said.
The prospects of Hinkley Point going ahead have diminished significantly since May replaced David Cameron as prime minister in July. Hours after EDF gave the project a green light, May's government said it needed time to reconsider. Hollande and his advisers have repeatedly sought reassurances that the project would proceed and failed to get firm commitments, French officials and executives said. They asked not to be named because the discussions are private and have yet to be concluded.
In London, May is bracing for delicate diplomacy over the issue, attempting to foster confidence that Britain remains open for business despite its decisions to leave the European Union and delay Hinkley Point. Central to the debate are Hinkley's growing costs and security issues related to China's involvement in such a strategic industry. In China, authorities see Hinkley as the start of a series of atomic projects in the U.K. that will serve as a shop window for future exports.
May "has upset the Chinese and the French," said Steve Thomas, professor of energy policy at the University of Greenwich, London. "She could have dealt with this in a better way by saying she would review all major public spending, not just Hinkley."
Publicly, Hollande's government is still backing the project and increasing pressure on the U.K. to do the same. Hollande's office didn't reply to requests for comment. May's office declined to comment.
For a QuickTake Q&A on Hinkley Point, click here.
State-controlled EDF remains in contact with the British government on the matter and see concerns within Hollande's administration as exaggerated, an executive said on the condition of anonymity. The company isn't working on a plan B for its U.K. unit, the executive added.
For France, Hinkley Point is "an exceptional opportunity," Finance and Industry Minister Michel Sapin said at a press conference Thursday. The British government needs to "face its responsibilities" on deciding to proceed, he added. It would underpin the country's nuclear-engineering industry with its many thousands of well-paid, skilled jobs.
The project also is of strategic importance for China. State-owned China General Nuclear Power Corp. would provide a third of the finance for Hinkley Point. It would follow up the investment with a minority stake in a second nuclear plant at Sizewell and then a majority holding in another at Bradwell. Both projects in eastern England may deploy Chinese reactors.
For the U.K., those overseas connections both bring welcome investment and concerns about security. A year ago, the U.K. was warned by a longtime adviser, Nick Timothy, that China's involvement could allow the government in Beijing to "shut down Britain's energy production at will" in the event of a conflict. The Chinese company was charged in federal court by U.S. authorities last month with conspiring to steal nuclear secrets.
China has said pulling the plug on Hinkley would damage its relationship with Britain and potentially threaten other investments, a warning that resonates after U.K. voters backed Brexit in June.
"No country can develop by itself behind closed doors," Liu Xiaoming, China's ambassador in London, wrote in a column in the China Daily on Thursday. "I hope that Britain will continue to be pragmatic and stay open to Chinese businesses."
Cameron's government agreed in 2013 to pay EDF 92.50 pounds ($121) a megawatt-hour for electricity from Hinkley, more than double the prevailing market price. The National Audit Office estimated in July that consumer-funded top-ups over the project's 35-year lifetime would total almost 30 billion pounds, five times original estimates. Offshore wind developers such as Dong Energy A/S and biomass producer Drax Group Plc say the government should look again at alternatives to nuclear, which are falling rapidly in price.
Even within the French administration, the project received another blow this week when one of its key backers, Emmanuel Macron, resigned as economy and industry minister. Sapin has now taken over Macron's responsibilities on the file.
May's office has said it will decide on Hinkley by the end of this month, probably too late for her to make an announcement in Hangzhou. "We're looking closely at this contract," May's spokesman, Greg Swift, told reporters in London on Tuesday. "Anglo-Chinese relations are very important to us, and they will be going forward."