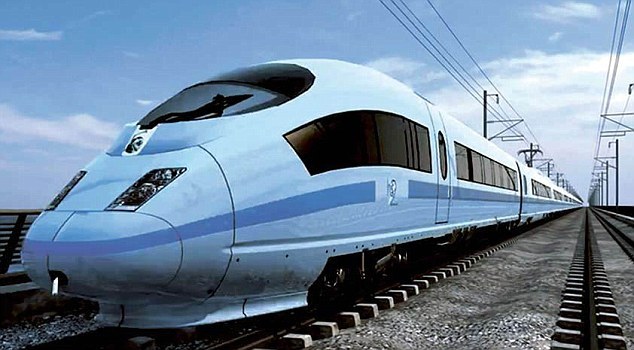 Scottish engineering companies were invited to get on board the £55billion High Speed Two (HS2) rail project at a supply chain roadshow in Aberdeen yesterday.
HS2 Limited (HS2L), the firm responsible for developing and promoting the UK's new high-speed rail network, was in the Granite City to highlight a "huge opportunity" to reap rewards from a key part of UK Government plan to boost Britain's economy.
HS2L commercial director Beth West said the north-east's oil and gas expertise could help to plug an engineering skills gap in a development expected to support up to 100,000 jobs.
She added: "Building HS2 is a massive long-term project and one that offers a huge opportunity for businesses from across Scotland to bid for billions of pounds worth of contracts, starting with enabling works packages through to supply chain opportunities in engineering and construction."
"Delivering a project of HS2's size and complexity will require the right companies with the right skills and competencies, including health and safety, environmental sustainability, and community relations – among many other areas."
Speaking just before the event got under way, Ms West said: "This is a massive mobilisation of resource and we want companies from across the country and across the world to bid for the work.
"The Aberdeen region has such a strong history in oil and gas engineering and innovation, and we hope to bring some of these skill sets to HS2."
She added the much smaller CrossRail project in London – still among the most significant infrastructure projects ever undertaken in the UK – saw work spread across contractors throughout the country.
Contracts for HS2, which will initially connect London and Birmingham, with links to Manchester, the East Midlands, Sheffield and Leeds planned for a second phase, start going out between now and the end of the year.
Civil engineering work worth £8billion is currently out to tender.
Construction work creating an estimated 25,000 jobs is expected to get under way next year, with the first trains scheduled to depart during 2026.
Ms West said: "Scotland's strong engineering and construction base is well-placed to benefit from the opportunities with HS2 and I'm delighted to have spoken to more than 100 business representatives in Aberdeen today."
UK Government Transport Minister Andrew Jones added: "HS2 will be the new backbone of the national rail network and its benefits will be enjoyed by Scotland as soon as the transformative scheme opens in 2026 as improved journey times bring Britain closer together."
"With construction due to start next year, HS2 is an opportunity for businesses across the UK, including those here in Scotland, right now.
"Aberdeen has a long and proud history of innovative engineering and it was pleasing to see Scottish businesses taking full advantage of this conference."
Representatives from 85 firms from throughout Scotland and further afield attended the event to find out how to prepare to bid for work on the high-speed line.
They included James Irvine, sales representative at Inverurie-based John Bell Pipeline Equipment Company, which is trying to diversify from its core oil and gas focus.
Mr Irvine said he was at the event to "see what we can do within our wider (Bianco) group".
He added: "With 60% of HS2 contracts expected to go to small and medium businesses, there must be opportunities for firms like ours."
Recommended for you

Oil and gas worth a huge £18bn to north-east economy, research shows