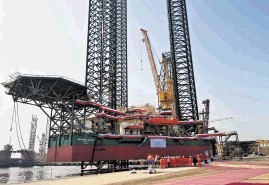 Lamprell is expected to face investors this week after a customer delivery mishap.
The oil rig builder had warned shareholders it would face penalties earlier this month.
It came after it failed to deliver oil rigs to the supplier Ensco by the end of the first half of the year.
It's likely the firm will see a drop in revenue of $25million as well as a $35million hit on profit.
Its interim results are expected this week with market analysts slashing full-year profit forecasts by 80%.