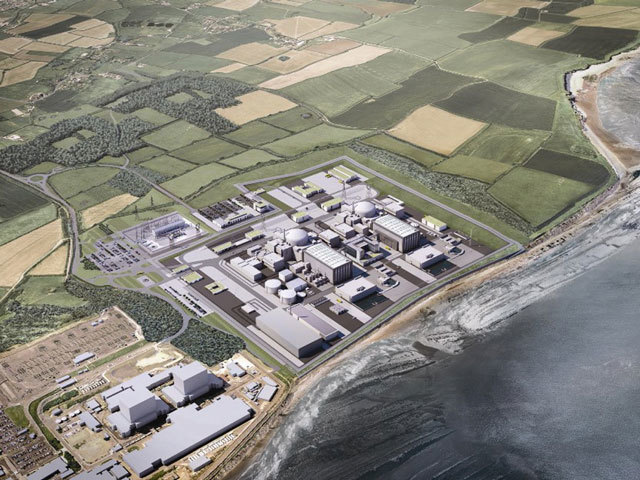 Government ministers from the UK, France and China have attended a signing ceremony giving the final go-ahead for the Hinkley Point nuclear power station to be built.
The green light for the £18 billion project in Somerset will now lead to thousands of jobs bring created during the building phase.
A so-called contract for difference was signed in London by Business Secretary Greg Clark, Jean-Bernard Levy, chairman of French energy giant EDF, and He Yu, chairman of Chinese firm CGN which has a third stake in the scheme.
French foreign minister Jean-Marc Ayrault and Chinese energy minister Nur Bekri were also in attendance at the event.
Mr Clark said: "Signing the contract for difference for Hinkley Point C is a crucial moment in the UK's first new nuclear power station for a generation and follows new measures put in place by Government to strengthen security and ownership.
"Britain needs to upgrade its supplies of energy, and we have always been clear that nuclear power stations like Hinkley play an important part in ensuring our future low-carbon energy security."
The Low Carbon Contracts Company will manage the contract on behalf of the Government.
It provides a set price of £92.50 per megawatt hour of electricity provided by Hinkley Point C for 35 years once it begins generating.
Hinkley Point C will be the first new nuclear power station to be built in the UK in a generation.
It will produce 7GW of electricity for six million homes.
The Government published documents detailing the contractual obligations it has entered into, including a so-called value for money assessment that allowed ministers to make the decision to proceed with the project.
Hinkley will provide 7% of Britain's electricity needs for 60 years.
UK-based businesses will benefit from more than 60% of the project and 26,000 jobs and apprenticeships will be created.
The board of EDF gave its final investment decision in July but the UK government said it wanted more time to study the details.
The Government approved the project earlier this month and the signing ceremony completes the process.
Unions welcomed the development, saying thousands of skilled jobs will now be created, benefiting firms across the UK.
He Yu commented: "The signing of these agreements signifies CGN's commitment to the UK as one of the world's leading developers and operators of nuclear power.
"This flagship programme is a triple win for China, Britain, and France and is a culmination of years of co-operation between the three countries.
"CGN looks forward to providing UK consumers with safe, reliable and sustainable energy and maximising opportunities for UK suppliers and the UK workforce."
CGN said it had signed all final agreements for the Hinkley Point C Project (HPC) and agreements relating to new power stations at Sizewell in Suffolk and Bradwell (BRB) in Essex.
"This means that all the necessary government and commercial approvals have been completed for HPC and the project can now move forward.
"At the same time, the agreements signed today will also enable preparatory work to begin on BRB, allowing CGN to put its HPR1000 technology through the UK's generic design assessment (GDA) process," said a statement.
Mr Levy said: "Contracts signed today with the British Government and with our historic partner CGN are the result of years of hard work of the teams which have brought us to this point.
"The project is of strategic importance for EDF Group and the nuclear industry. All of the employees of EDF Group around the world can be proud of the progress we have made. Now the next phase is under way.
"EDF, its partners and suppliers are ready and dedicated to the successful construction of Hinkley Point C."
EDF Energy chief executive Vincent de Rivaz added: "Hinkley Point C will kick-start Britain's nuclear revival. It has overcome obstacles and challenges which will benefit our next nuclear projects in Britain.
"This huge investment has been made possible by the consistent policies of successive governments to provide secure, affordable, low carbon electricity.
"I want to thank our team, our suppliers, trade unions and the people of Somerset for their dedication, determination and patience. Their support has been vital to our success."
Justin Bowden, the GMB union's national secretary for energy said: "With collective sighs of relief all round, it is fantastic news that the Hinkley deal is finally signed and work can start on this vital piece of UK infrastructure.
"The formal go-ahead for Hinkley is the first serious sign that UK plc is open for business post-Brexit and holding a secret ceremony did not do justice to such an historic event.
"Attention must now straight away shift to Bradwell B and Sizewell C."