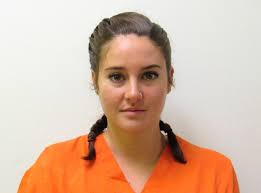 Hollywood actress Shailene Woodley has been arrested in North Dakota while protesting against a planned pipeline.
Native Americans have warned the plans for a pipeline in the region could harm sacred land and pollute water.
The 24-year-old actress, who is known for the Divergent film franchise, captured herself on film during the arrest.
A spokeswoman for the Morton County Sheriff's Office confirmed Woodley was taken into custody at the demonstration but declined further comment.
Woodley is seen narrating her own arrest in a video posted on her Facebook page, saying she was headed peacefully back to her vehicle when "they grabbed me by my jacket and said that I wasn't allowed to continue … and they have giant guns and batons and zip ties and they are not letting me go."
An officer is heard on the video telling the actress that she is being arrested for trespassing.
As she was led away in handcuffs, Woodley says on the video she was among hundreds of protesters but was singled out "because I'm well known, because I have 40,000 people watching."
Woodley, who is known for her environmental activism, has previously joined members of North Dakota's Standing Rock Sioux Tribe to protest against the proposed construction of the $3.7 billion project.
The 1,100-mile (1770.28-km) pipeline, being built by a group of companies led by Energy Transfer Partners LP, would be the first to bring Bakken shale from North Dakota directly to refineries on the U.S. Gulf Coast.