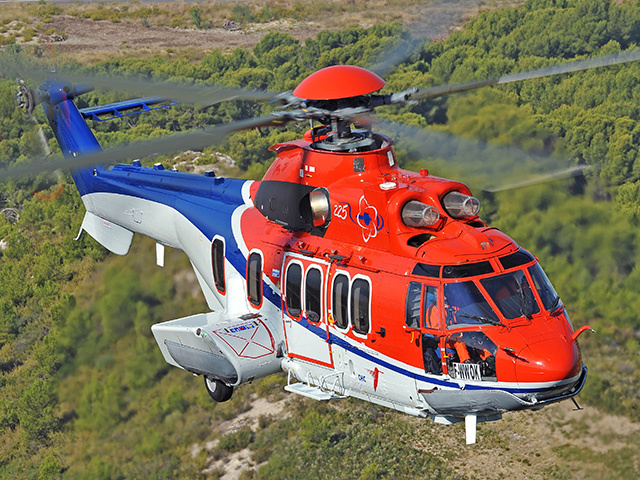 The European Aviation Safety Agency (EASA) has issued a proposed Airworthiness Directive (AD) for EC 225 helicopters.
It comes after a directive was issued earlier this month which lifted a suspension on Super Pumas in the North Sea following a helicopter crash in April this year.
In the latest note from the aviation body, it warns of occurrences of oil leaks during engine starting, originatING from the main gearbox (MGB) of helicopters.
It's understood the proposed AD does not affect helicopters in the UK.
EASA said a subsequent investigation found the leaks were as a result of inadvertent opening of the "P.24″ valve of the emergency lubrication system as well as MGB pressurisation by compressed air produced by the engine during start-up.
It has now put forward proposals for consultation.
The report said the signal to open up the affected valve was triggered by an electrical power interruption when changing from ground to helicopter electrical power.
It said:"This condition, if not corrected, could lead to loss of MGB lubrication, possibly resulting in reduced ability of the crew to cope with adverse operating conditions."
EASA said a modification of the electrical control circuit is required to address the inadvertent pressurisation and a potential loss of the MGB main lubrication system.
The proposed AD is expected to be closed for consultation on November 16th.
A spokesman for Airbus Helicopters saod: "As standard practice, EASA is preparing an AD to support Airbus Helicopters' Service Bulletin to address rare occurrences of oil leakages which have occurred on the ground during engine start up.
"As these oil leakages are a result of the engine start-up process, Airbus Helicopters' solution changes the electrical control circuit and avoids the leaks.
Recommended for you
X

Oil surges to 15-month high on US supply drop, OPEC optimism