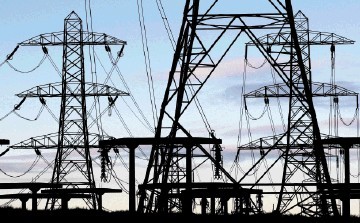 National Grid has unveiled plans to remove electricity pylons from the Lake District as part of a £2.8 billion power connection project.
An extensive new scheme is needed to link up the planned new nuclear power station at Moorside in Cumbria with the grid, the operators said.
Plans for the project include measures to reduce the impact on the landscape, including looking at putting 14.5 miles (23.3km) of new power lines underground through the western section of the Lake District National Park.
The move, which would cost an estimated £460 million, could see existing power lines being removed completely – leaving that part of the national park free of pylons for the first time in 50 years, National Grid said.
The "biggest new power line project since the electricity network was built" will also include putting lines in a 13-mile (21km) tunnel under Morecambe Bay to avoid going through the southern end of the park.
In total, the route would be some 102 miles (164km) long, broadly following the existing line of Electricity North West pylons running around the coast of west Cumbria between Carlisle and the Furness peninsula, before going under Morecambe Bay.
Under the plans, many of the existing pylons owned by Electricity North West would be removed and replaced with fewer, taller National Grid pylons at a higher voltage along the route.
And the low-voltage line in the area around Hadrian's Wall World Heritage Site would be replaced with underground cables.
Efforts to reduce the impact of the new connection would cost £1.9 billion under the plans, which are being put out to public consultation.
Project manager Robert Powell said National Grid had spent six years developing the plans, and had listened to groups such as the National Trust and the public about the importance of the national park.
"Balancing the impact of the project on the landscape against its cost has involved making some difficult choices, as the cost of building a connection is ultimately passed through to energy bill payers.
"We believe the proposal we are going to consult on over the coming months strikes the best balance.
"Our consultation will now give people a chance to have their say on the fine detail of the project."
Kim Hagen, senior energy campaigner at the Campaign to Protect Rural England, said: "It's brilliant news that National Grid proposes to underground all of the planned cables through the national park. This would be a great victory for one of our most cherished landscapes.
"It would mean the character and beauty of the Lake District is protected for generations to come. Let's hope this sets new standards for the future."
Recommended for you

Former Westwood CEO sets up new consultancy targeting '£821m market opportunity'