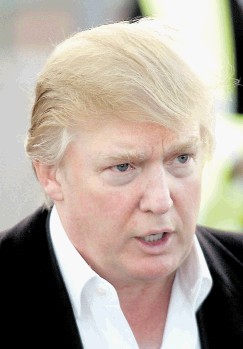 Donald Trump's stunning victory is already creating winners and losers in markets and governments around the world, from miners in America's Appalachian Mountains heartened by his devotion to coal, to Mexican peso traders stunned by the selloff. Many changes will play out slowly. Others took little time to manifest. Here are some:
WINNERS
Defense contractors: Trump pledged to bolster U.S. defense spending. Lockheed Martin Corp., Northrop Grumman Corp. and Raytheon Co. posted the biggest share gains since the financial crisis. "Defense gives investors a place to put their cash — it's a safe haven," said Richard Aboulafia, a Fairfax, Virginia-based analyst with Teal Group. A restriction on Muslim immigration, however, would make Middle Eastern countries less likely to be customers of U.S. companies, he said.
Coal: Trump's election breathed fresh life into an industry struggling with debt and the worst price slump in decades. Coal tycoon Robert Murray said in a statement that the election marked a "great day for America" and he looked forward to a national policy that puts all energy sources on a level playing field. Bonds of his company, Murray Energy Corp., surged to their highest in 16 months.
Oil and natural gas drillers: Remember 2008's "drill, baby, drill"? Trump, who's bullish on fracking, has pledged to roll back regulations and open more federal land to extraction industries.
Pharma stocks: With Republicans retaining both houses of Congress and Trump in the White House, Democratic threats of price controls are no longer a concern. Investors made stocks such as Pfizer Inc. some of the biggest winners in early trading.
Bank stocks: Trump has vowed to reduce financial regulation, and banks are already benefiting. Bank of America Corp. gained the most since May.
Steelmakers: U.S. Steel Corp. and Nucor Corp. soared as Trump's promise to favor American manufacturers led investors to believe that domestic prices for the metal will increase. Nucor gained the most in more than seven years; U.S. Steel climbed more than 20 percent.
Right-wing populists: France's National Front leader Marine Le Pen was one of the first European politicians to congratulate Trump after his victory. (Russian President Vladimir Putin beat her to it.) Polls — if we can still believe them — show she'll be the winner in the first round of presidential voting in April. Geert Wilders, head of Netherlands's Freedom Party, has promised to hold a vote on exiting the European Union and close its borders to Muslims if he wins parliamentary elections in March. "Politics will never be the same," he tweeted after yesterday's result.
LOSERS
Mexican peso: The currency was headed to its biggest drop in more than two decades as angst swept across a country that was often the focus of Trump's harsh campaign rhetoric. For President Enrique Pena Nieto, the outcome was particularly painful. His popularity sank to record lows in August after he invited the Republican nominee to a meeting in Mexico City that turned into an embarrassing exchange of angry words. On Wednesday, Pena Nieto took to Twitter to say he's ready to work with Trump.
Treasuries: They'd been expected to soar in an investor flight to safety, but instead they're falling amid speculation Republicans will ramp up spending to boost the economy.
Renewable energy: Denmark-based Vestas Wind Systems A/S, the world's biggest builder of wind turbines, fell as much as 13 percent, while solar companies took a hammering. San Jose-based SunPower Corp. dropped by as much as 14 percent.
M&A: Trump has vowed to block AT&T Inc.'s $85.4 billion deal for Time Warner Inc. — the largest transaction announced this year — calling it "poison" to democracy. A survey by Intralinks Holdings Inc. before the election showed that 56 percent of global deal-making executives said Trump would be bad for M&A.
Gunmakers: Sturm Ruger & Co. posted the biggest intraday decline in seven years as the Trump win eased concerns of weapons restrictions. Sales have surged, and any discussion of gun control by political leaders can cause shares of gunmakers to spike. Smith & Wesson Holding Corp. fell in the biggest intraday drop since April.
Petro Poroshenko: The Ukrainian president has relied on U.S. political and financial support to help him battle Russian-backed separatists. Any warming of relations between the U.S. and Putin would jeopardize that backing. Of particular concern is the U.S. resolve to maintain sanctions on Russia over the annexation of Crimea two years ago.
The Baltic nations: Trump questioned the U.S. commitment to NATO, putting Lithuanian President Dalia Grybauskaite and her counterparts in Latvia and Estonia on the hot seat. While Estonia meets NATO defense-spending requirements, the other two Baltic countries, which embraced the EU after breaking free from the Soviet Union, have plans to do likewise only in the coming years.
Recommended for you

Amazon, Exxon hydrogen hubs to get slice of $7bn US funds