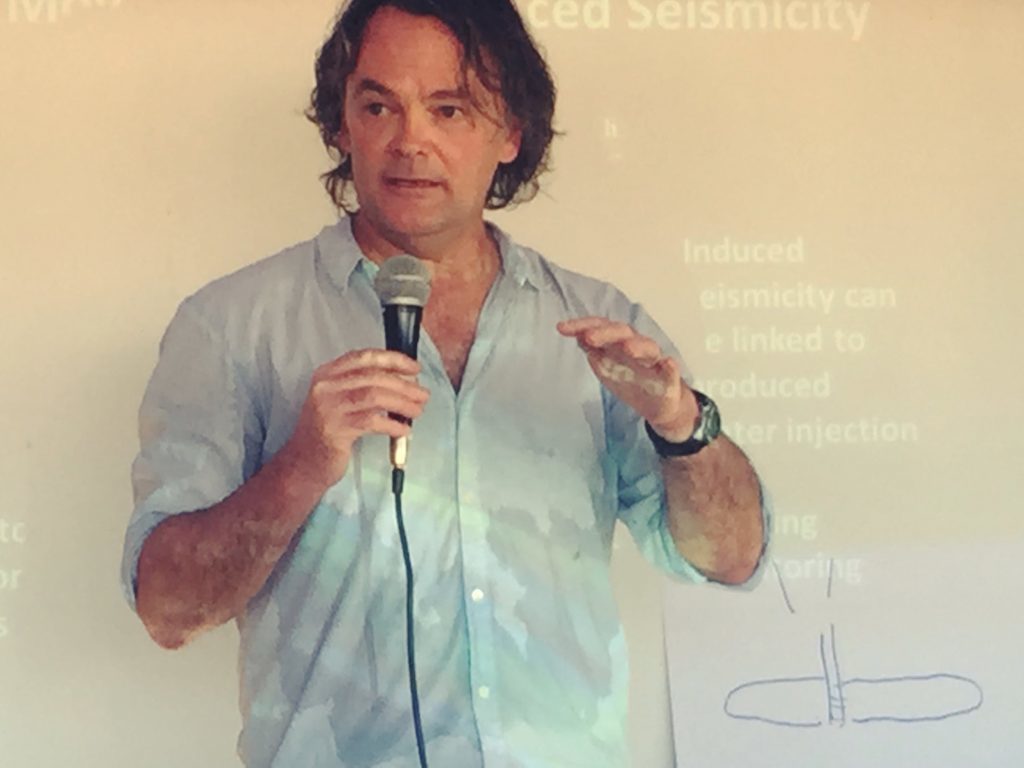 Scotland should embrace shale gas as an ideal transition fuel with manageable environmental risks, a US fracking expert has said.
Daniel Tormey, president of Catalyst Environmental Solutions, a California-based energy and water resources consultancy, said the Scottish Government was right to take a cautious approach on shale.
But he said that caution did not necessarily have to result in inertia.
Mr Tormey was speaking after the government published a series of reports into the potential impacts of permitting fracking in Scotland.
A public consultation on shale gas extraction − currently subject to a moratorium in Scotland − will begin early next year.
The assessment from Health Protection Scotland published yesterday said the data available was insufficient to draw conclusions on whether fracking would pose a risk to public health.
Mr Tormey, who was involved in a study of the effects of fracking in California last year, said: "Our study concluded there was no demonstrated evidence of adverse effects and that other potential risks were small and manageable.
"But you could have taken the same data we had and said we do not know enough, so we're not going to say anything.
"There's the cautious approach the Scottish health study advocated that says until we can show an activity is safe we should not do that activity.
"The other approach is to use the evidence we do have to make a decision and where we do have uncertainty, we impose a regulatory structure to address that uncertainty.
"We do what we can based on what we know and find out about what we don't know."
Mr Tormey said the US's experience demonstrated that fracking can be a force for lowering emissions, and that robust regulation would take care of most environmental concerns.
Mr Tormey, who is also a distinguished lecturer for the Society of Petroleum Engineers, said: "Natural gas is a good transition fuel. We're in no way ready to turn off the switches and shut down the transport systems that depend on fossil fuels.
"So for both electricity generation and transport, natural gas is the best in terms of greenhouse gas emissions.
"In the US, we've been displacing our use of coal-fired plants with gas. That's led to a reduction in greenhouse gases."
"In Scotland there's demand for shale gas as a feedstock for other industries, but it could be exported as well.
"Some European countries are heavily dependent on coal, so from an EU perspective, a bigger domestic natural gas supply could greatly reduce greenhouse gas emissions as a whole.
"Where we have any kind of environmental issue it's at the surface and it's not so much a problem with fracking − it's any activity where we use chemicals and produce chemicals.
"In all of those cases you can have spills, but you also have regulatory programmes, best practice, and penalties to reduce instances of spills."
Mr Tormey also said public acceptance was a regional phenomenon: "In my experience, where there has been a relatively mature oil and gas industry, the acceptance of new approaches tends to be high, because there's a comfort level with the industry.
"In the north-east of the US, because there has not been public experience of the industry for two or three generations, they have more scepticism and concern that the industry won't be compatible. And rightly so − if there's a new industry coming to town, you should look at it."
Recommended for you

Shell CEO says £25bn UK investments 'have to make sense' amid windfall tax calls