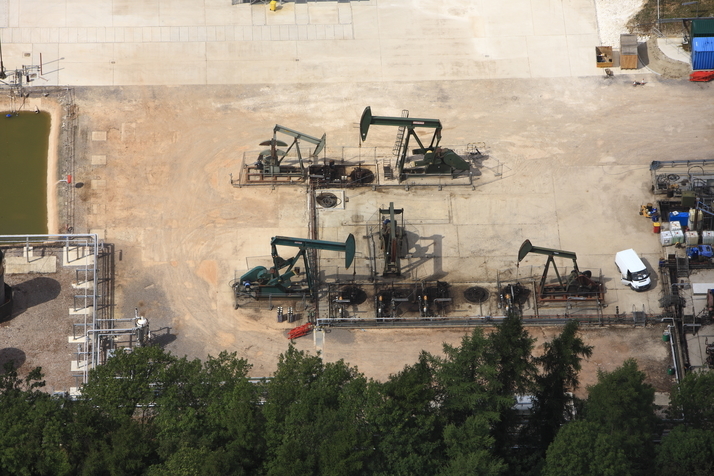 Councillors have approved plans for exploratory shale gas wells in north Nottinghamshire.
Two wells will be dug on land off Springs Road in Misson, south east of Doncaster, by energy firm IGas Energy.
Campaigners against the plans congregated outside Nottinghamshire County Council's headquarters while the plans were discussed and approved by the planning and licensing committee seven votes to four.
The authority said no hydraulic fracturing – known as fracking – is included in the proposals, which are subject to legal agreements.
Following the decision, campaign group Frack Free Notts tweeted: "£WeSaidNo £PeopleSaidNo but councillors didn't believe there were any planning reasons to turn the application down and so approved it."
Stephen Bowler, CEO of IGas, said he was "pleased" by the committee's decision.
He said: "We are at a critical juncture in the future of our energy mix and supply, as we move away from coal towards lower carbon energy sources.
"We now have the consent to develop a hydrocarbon well site and drill up to two exploratory hydrocarbon wells (one vertically and one horizontally) to help us better understand the shale gas potential in North Nottinghamshire."
Greenpeace UK campaigner Hannah Martin said: "It is a deep shame the council has decided to give fracking firm IGas the go-ahead to drill in Nottinghamshire. This is despite considerable local opposition and Labour and Lib Dem national parties backing a fracking ban.
"Fracking makes little economic and environmental sense. It will cause disruption to local communities, industrialise our countryside and hold back efforts to bring down climate-warming emissions."
Recommended for you

Oil giants put contracts up for grabs on a series of West of Shetland wells