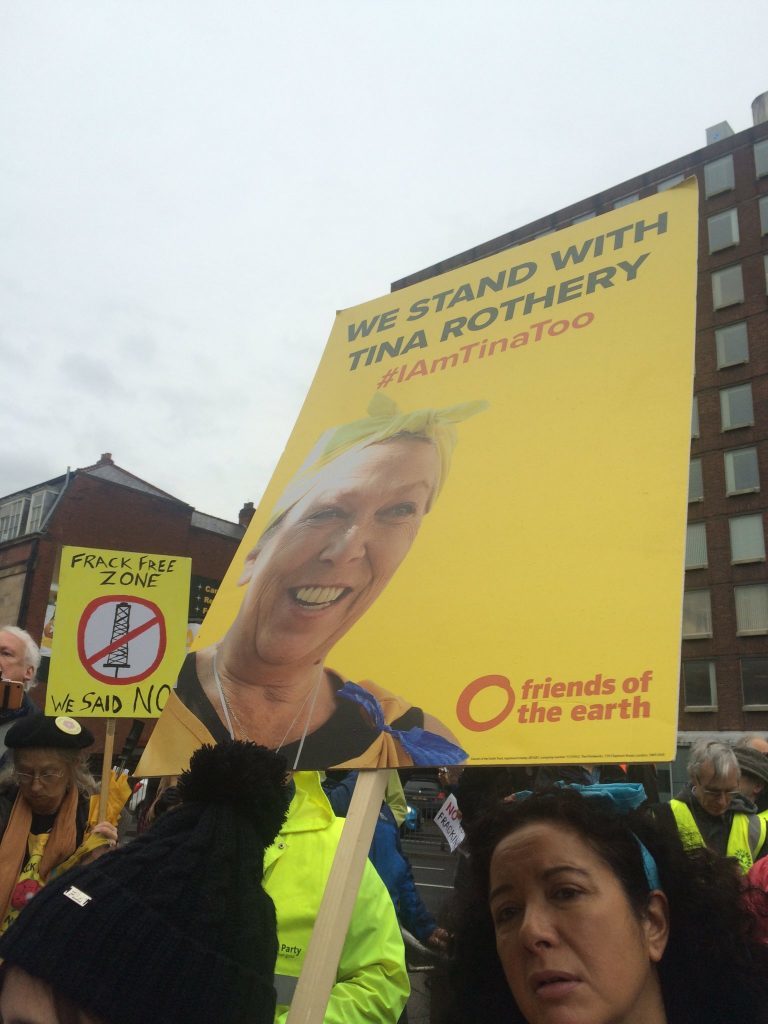 Anti-fracking campaigners have cheered a crusading grandmother who escaped jail after failing to comply with a court order over a £55,000 legal bill.
Grandmother Tina Rothery, 54, was carried shoulder-high from the doors of Preston Crown Court to cheers of about 150 fellow protesters, singing: "She's coming home, she's coming home, Tina's coming home!"
Mother-of-one Ms Rothery, who describes herself as a writer, traveller, poet, activist and part of the Occupy movement, had been hit with a £55,000 legal bill after opposing an injunction by energy firm Cuadrilla and other landowners when she and other anti-fracking campaigners occupied a field near Blackpool for three weeks in 2014.
Cuadrilla said at earlier hearings she told the court she would be defending her actions, but then failed to provide a defence at a second hearing months later, incurring the £55,000 costs of the court and the landowners.
Ms Rothery then declined to provide the court with details of her financial means to pay the bill and was put in contempt of court.
She said on principle she would not comply and would carry on the fight against "big energy".
She was facing 14 days in jail unless she provided a statement of her means, but finally complied with the court order during a private hearing, Cuadrilla said.
The £55,000 bill, partly taxpayers money, remains unpaid and Cuadrilla said they would not be pursuing her for their costs as she has no money or assets.
After Ms Rothery, who was born in Hong Kong and lives in Blackpool, appeared before District Judge John Oldroyd and lawyers for Cuadrilla, she emerged from the courtroom following the two-hour private hearing to cheers from her supporters.
Ms Rothery shouted: "I'm free! I'm not going to jail!"
She said she had been fighting the case for the sake of future generations, adding: "You cannot make a lion step out of the way of her cubs."
Ms Rothery, a former parliamentary candidate for the Green Party, had received backing from the party, as well as a number of public figures including actress Emma Thompson, fashion designer Vivienne Westwood and filmmaker Josh Fox.
A spokeswoman for Cuadrilla said: "Having previously been found in contempt of court, Ms Rothery has today attended court and complied with the court's order to provide information as to her financial means, thus purging her contempt.
"She could have easily avoided this situation and avoided yet again wasting court time and taxpayers' money.
"A barrister attended court on behalf of the judgment creditors, Cuadrilla and the landowners, as the court required him to do so.
"The outstanding costs were awarded against Ms Rothery in October 2014 for wasting court time by failing to submit a defence after asking for a time extension in order to do so. The debt will remain unpaid and we will not pursue costs whilst she clearly has no assets to make any payment.
"The position will be kept under review and revisited should Ms Rothery's financial circumstances change."
The Green Party has given Ms Rothery a lifetime membership in recognition of her "bravery".