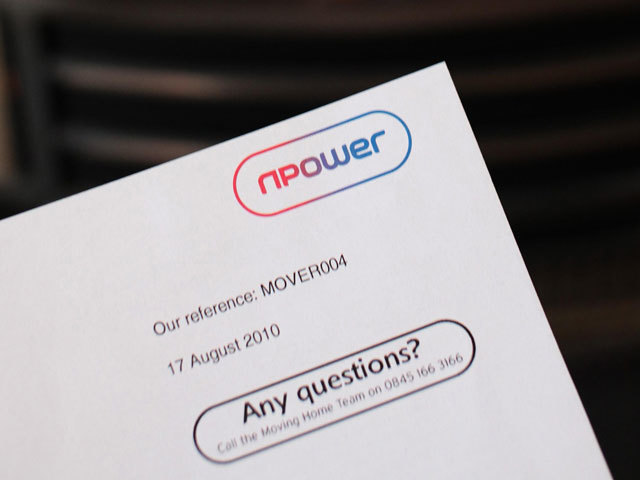 Npower customers are to face a 9.8% increase in the price of gas and electricity, a move that will add £109 to their annual dual fuel bills.
The Big Six energy firm said the move, which will affect 1.4 million customers on a standard variable tariff, comes in the face of rising wholesale energy costs.
Simon Stacey, managing director of npower's domestic markets, said it was a "hugely difficult decision".
"We've delayed the date this takes effect until after the coldest months of the year.
"We've also made sure that our most vulnerable customers won't see any impact until May," he added.
The price hike on typical dual fuel annual energy bills is made up of an average increase of 4.8% on gas and 15% on electricity, with the new charges coming into effect on March 16.
Npower said another 1.4 million fixed rate and pre-payment customers will not be affected by the price increase.
"Since npower last raised its prices three years ago, there have been increases in wholesale energy costs and rises in the cost of delivering Government policies, such as smart metering, renewables obligation and the capacity market. This trend is set to continue," the firm said.
The move comes after rival EDF hiked prices in December.
Mr Stacey added: "Npower operates one of the broadest range of support schemes of any supplier, offering the widest and most diverse care programmes for vulnerable customers and those who are struggling with their energy bills.
"We're already delaying the impact of the increase for vulnerable customers, but anyone who is struggling with their energy bills should contact us straight away to discuss whether they're on the right tariff for their needs, energy saving help and bespoke payment plans."
Experts believe the company's move could be a precursor to other energy providers ramping up prices.
Npower's move comes at a difficult time for consumers, who will face soaring prices this year after the country voted for Brexit, resulting in the collapse in the value of the pound.
Inflation rose to a two-and-a-half year high of 1.6% in December, and is expected to rise further over 2017 as the cost of imports soar off the back of the British currency's fall.
Neil Wilson, senior market analyst at ETX Capital, said: "Npower raising prices by nearly 10% only adds to the fears that inflation – driven by high oil prices and weak sterling – will crimp consumer spending throughout 2017.
"We have to assume that some of the other Big Six energy providers will follow when they review in April.
"It's a sign that higher input prices – seen across UK industry – are starting to bite.
"Someone has to pay for it and that burden is going to fall on the British consumer. Food and clothing retailers are next line."
Sterling has fallen nearly 18% against the US dollar and around 10% against the euro since the Brexit vote.
Energy regulator Ofgem rebuked Npower, saying it does not see "any case" for significant price increases where suppliers have bought energy in advance, and demanded the firm justify the decision to its customers.
An Ofgem spokesman said: "Our new supplier cost index shows that costs for energy suppliers have risen over the past year after having fallen for the previous two to three years.
"However, we don't see any case for significant price increases where suppliers have bought energy well in advance. Npower must therefore justify the decision to its customers."