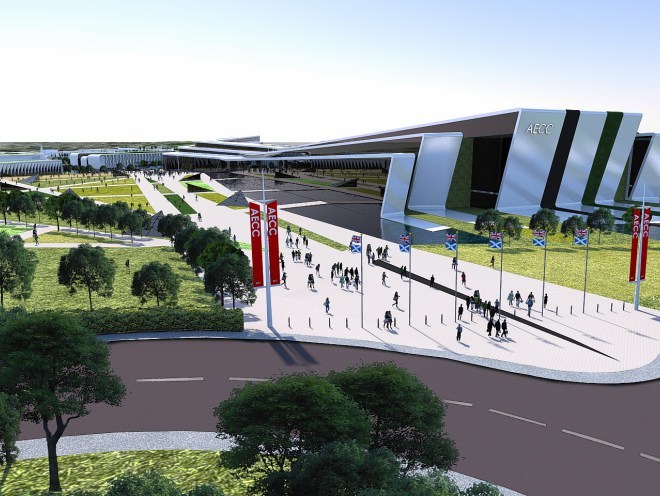 Councillors have voiced fears about the possibility of aeroplanes crashing into an overspill car park at the new multimillion-pound Aberdeen Exhibition and Conference Centre.
Some members of the authority's planning committee said yesterday they were "really concerned" about airliners hitting conference-goers, because the car park has been sited in a Public Safety Zone (PSZ).
The latter aims to control the number of people on the ground at risk, in the unlikely event of an aircraft accident on take-off or landing.
Under the guidance, the likes of playparks and housing are banned from such areas.
The committee met to re-approve the £333million development in anticipation of an upcoming legal battle against the Duke of Fife.
And they agreed to reduce the developer contributions from AECC developer Henry Boot Ltd by around £1million.
But Bridge of Don councillor Muriel Jaffray said she had new concerns about the venue, close to Aberdeen International Airport.
She added: "I didn't realise the importance of this Public Safety Zone. Instead of reducing the number of people who could be in it, we are increasing it by putting in a car park."
She was backed by Hazlehead, Ashley and Queens Cross member, John Corall, who stated: "I think we are taking a very cavalier attitude to public safety. If we have audiences of 12,000 leaving concerts, we need to think about the risk."
However, fellow member Neil Cooney reminded councillors the development had already been approved.
He added: "Building on the site has very clearly started.
"We've been through all this before. This development is absolutely essential for the [city's ] future economic health."
The exhibition centre had previously been backed by airport chiefs.
Planning officer Matthew Easton told the committee it was estimated being hit by a plane was a "one in 100,000 chance" and that development around airports was common throughout the UK.
He added that the overspill car park would only be used for the "biggest of conferences", such as Offshore Europe and would not be regularly in use.
The committee unanimously re-approved the project after debate.
The council will now try to keep the £1million reduction in contributions, instead of giving it back to Henry Boot Ltd.