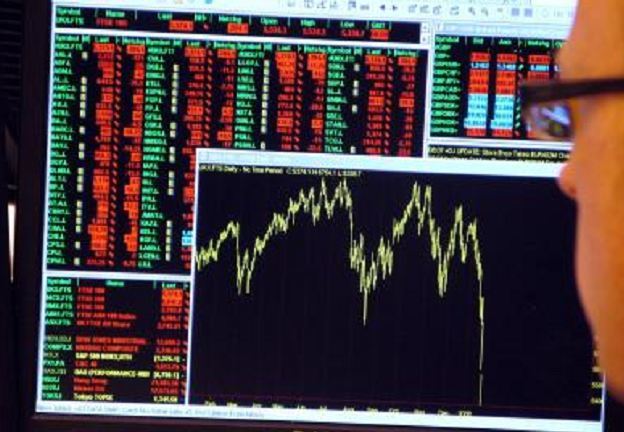 Shares in Japanese giant Toshiba tumbled after it postponed an announcement in which it was expected to confirm it is withdrawing from new nuclear projects outside Japan.
Such a move would deal a blow to plans for a new power station in the UK that had carried hopes of creating thousands of new jobs and boosting national energy security.
The company has been reviewing its investment in overseas nuclear projects and was set to make an announcement on Tuesday.
A statement from the company said the report on its earnings "has not yet become available".
Toshiba Corp's shares on the Tokyo Stock Exchange dropped more than 9% from 244.7 Japanese Yen to 227JY following the news.
Toshiba owns Westinghouse, the US-based nuclear developer whose AP1000 nuclear reactors are to be used at a planned £10 billion power plant at Moorside in Cumbria.
It also has a 60% stake in Nugen, the company which plans to build at Moorside, near Sellafield, so pulling out would leave the Government having to look for new backers.
Chris Jukes, the GMB union's senior officer for Sellafield, said: "A new build at Moorside is part of a vital broader and home grown energy mix – built, maintained and operated by British workers.
"Brexit should be a perfect opportunity to demonstrate conclusively a better way for nuclear in West Cumbria. For 70 years Whitehaven has been a hub for nuclear.
"The west Cumbria area must have new build to drive the regeneration that would follow with a new plant.
"New infrastructure, new roads, better railways, demand for housing, health and school places, would all follow a brand new power plant. All of these can fuel employment and keep skills in the area.
"That is why we are calling on the British Government to commit the investment that is lost by Toshiba pulling out and for the British and Japanese governments to work together on a broader solution so that post Brexit, West Cumbria jobs, skills and nuclear futures are guaranteed."
Unite national officer for energy Kevin Coyne said: "This is potentially a deeply troubling development and points to the need for the Government to take a more strategic approach in bringing new nuclear power stations on stream.
"Whether the UK can keep the lights on cannot be left to the vagaries of the market or business decisions taken on the other side of the globe."
Shadow business secretary Rebecca Long-Bailey said: "The Government's energy policy is in chaos.
"We have become increasingly reliant on the decisions of foreign companies whose interests lie with their owners and not British consumers.
"If Toshiba pulls out of the proposed Moorside plant in Cumbria, the Government must intervene immediately and provide public support and financial stability for Moorside and the community of west Cumbria."
She added: "Labour backs new nuclear and an expansion of renewable energy to keep the lights on and meet our climate change targets."
However, Greenpeace UK said any public spending should be on renewable energy schemes rather than nuclear.
Kate Blagojevic, the charity's head of energy, said: "As Toshiba announces multibillion-dollar losses this week, our Government is considering using public funding to kick-start the nuclear build at Moorside.
"It could cost up to £4 billion of taxpayers' money. This year's school leavers could still be paying for the project as they approach their pension age.
"The cost of renewables is falling, with offshore wind, storage and smart grid technologies all coming down in price.
"There is no case for a special case on nuclear, and the Government should not insulate nuclear from its private sector failure and take on this risk when clean energy alternatives are a better bet."