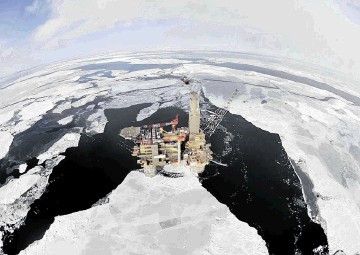 People in the UK are less worried about climate change than their European neighbours, a survey suggests.
A study quizzing 4,000 members of the public in France, Germany, Norway and the UK found most people in each country thought the climate was changing and the majority believed humans were at least partly responsible.
There were high levels of support across the four countries for policies to tackle the problem, including subsidies for renewable energy and home insulation and action to help people cope with the impacts of climate change.
In the UK, 70% supported renewable subsidies, 66% backed funding for insulation and 77% measures such as building flood defences.
Storms and floods were the most frequently mentioned consequence of climate change expected in France, Germany and the UK, whereas in Norway it was unpredictable weather, the European Perception of Climate Change Project (EPCC) showed.
It also revealed differences between countries on their attitudes to climate change.
The UK and Germany had the highest number of people sceptical that human activity is causing climate change or that it is happening, at 14% and 16% respectively, substantially higher than France and Norway.
UK citizens were least concerned about climate change, with only a fifth (20%) very or extremely worried, and 15% not worried at all.
French respondents were most concerned, with 41% very or extremely worried and only 5% not worried at all.
Four-fifths of people in France said they would be willing to reduce their energy consumption to help tackle climate change, compared with 59% in the UK.
People in all four countries had low opinions of coal, though it was higher in Germany and the UK, and favourable views on renewables including solar, onshore and offshore wind and hydropower.
UK support trailed slightly behind the other nations on positive opinions on the clean technologies, but was higher than others for nuclear.
At least two-thirds of people in each country supported their country's involvement in the Paris Agreement, the world's first comprehensive climate deal, and just 6% to 8% opposed it.
Professor Nick Pidgeon, of Cardiff University's School of Psychology, who led the project, said: "It is encouraging to see that most people in this very large study recognise that climate change is happening and that support for the need to tackle it remains high amongst the people we surveyed.
"Indeed, there were only low levels of climate scepticism present in any of our four nations."
Nick Molho, executive director of the Aldersgate Group, a member of the international advisory panel for the project, said: "The findings of this report show that the public's awareness of climate change is fairly well-developed, although more work needs to be done by governments, the scientific community and the media to communicate climate science in a way that is accurate and engaging."
He said the UK Government should build on public support for climate policies to put forward clear plans to cut emissions in the coming years.
:: The study was funded by national research councils of the four countries with surveying undertaken in all four countries during June last year by Ipsos MORI.
Recommended for you

Energy supply chain firms 'in crisis', warns OEUK