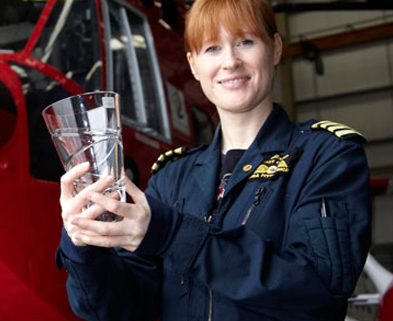 Helicopter operator CHC has paid tribute to the Irish Coastguard pilot who has died as the result of a crash off the coast of County Mayo.
Captain Dara Fitzpatrick had been taken to hospital in critical condition following the disappearance of a Irish Coast guard search and rescue helicopter early Tuesday morning. Three fellow crew members are still missing and search efforts are ongoing.
The head of the Irish coastguard Eugene Clonan has said "hopes are fading that we will find the rest of the crew".
Mark Abbey, CHC EMEA's regional director, said: "It is with deepest regret that we can confirm that Captain Dara Fitzpatrick passed away following today's accident off the coast of County Mayo in the early hours of this morning.
"We are devastated by this morning's tragic accident. Our thoughts are with Dara's family and friends, as well as those of the three crew who are still missing.
"The extensive search and rescue mission is ongoing."
Captain Fitzpatrick, age 45, served with SAR Ireland for 20 years.
The Sikorsky-S92 helicopter, operated by CHC on behalf of the Irish Coast Guard, lost contact at about 01:00 local time as it was coming in to refuel during a rescue operation.
Recommended for you

CHC Scotia helicopter workers set to strike across UK in pay dispute