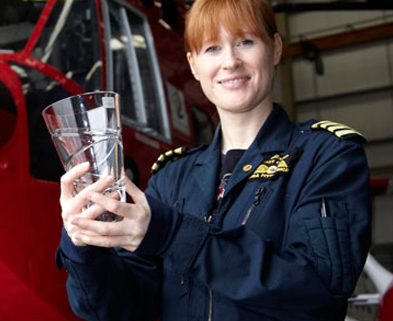 The captain of a Coast Guard helicopter that crashed into the Atlantic during a rescue mission was a brave hero, an adoring mother and a champion of the underdog, her funeral Mass has heard.
Mother-of-one Dara Fitzpatrick, 45, was among the four crew members of a Sikorsky S92 that disappeared without warning off Co Mayo, in the west of Ireland, on Tuesday.
Fr Andrew O' Sullivan told a packed St Patrick's Church, Glencullen, in the Dublin mountains, that few funerals were "as profoundly sad and sorrowful" as Ms Fitzpatrick's.
"We could scarcely believe it then, we can scarcely believe it now," he said.
"We have lost a talented young woman, who along with her colleagues lived good and generous lives and did so much in helping others in their time of need."
He added: "How these extraordinary people put their own lives at risk in order to save others – what bravery. And they truly are heroes."
Draped in an Irish tricolour, Ms Fitzpatrick's coffin was carried into the small granite church through a uniformed guard of honour amid hundreds of mourners who spilled out into the wet and windswept churchyard.
Fr O'Sullivan said everyone was praying the "nightmare of waiting may soon be over" for the families of the other crew members – Captain Mark Duffy, Winchman Ciaran Smith and Winch Operator Paul Ormsby – who remain missing.
Ms Fitzpatrick, who "adored" her three-year-old son, was remembered as an adventurer, great horsewoman and hillwalker who was "fierecly loyal" to her family. She had a "goofy" sense of humour, was fun-loving yet quite shy and loved to cook – being renowned for making "a mean chocolate roulade".
She also loved fashion, "most especially her Gucci boots and her Tom Ford perfume".
"She was kind to her core and a champion of the underdog," the parish priest told the service.
"The day Dara formally adopted Fionn was one of the happiest days of her life and that of her family.
"Fionn, now embodies Dara's characteristics of family – he loves to and often instigates the family group hug. Dara adored Fionn."
Uniformed Coast Guard officers, Naval Service and Air Corp staff, RNLI volunteers and other rescue workers from throughout the country travelled to bid their colleague a final farewell.
President Michael D Higgins, Taoiseach Enda Kenny and Fianna Fail leader Micheal Martin were among the mourners.
Ms Fitzpatrick's family take consolation that she lived life to the full and packed a lot in, Fr O'Sullivan said.
He added: "When a life is torn away from us, then we see that our friends, people, life, are all that matter."
Ms Fitzpatrick is survived by son Fionn, parents John and Mary, sisters Niamh, Orla and Emer and brother Johnny.
A major search for her missing colleagues is focusing on a "three-hour window" to find the crashed helicopter amid fierce weather conditions.
Organisers hope a critically timed operation between low tides on Sunday will lead them to the aircraft and the bodies of the three men.
The search has been narrowed to a 100 metre by 80 metre section of the ocean around Blackrock lighthouse, around 13km offshore from Blacksod, where the aircraft was to land to refuel moments before it vanished.
The detection of a black box signal in that area has raised hopes that the bulk of the wreckage can be found along with the three remaining crew members.
The Dublin-based helicopter crew was providing cover for another Coast Guard helicopter involved in an early-morning evacuation of a crewman around 240km off the west coast.
It had flown directly to the scene from the Irish capital, travelled around 16km out to sea, then turned back towards land to refuel.
There was no indication of any danger moments before it vanished, with the crew's final transmission: "Shortly landing at Blacksod."
Recommended for you

Change at the top for NZTC as Colette Cohen announces plans to step down