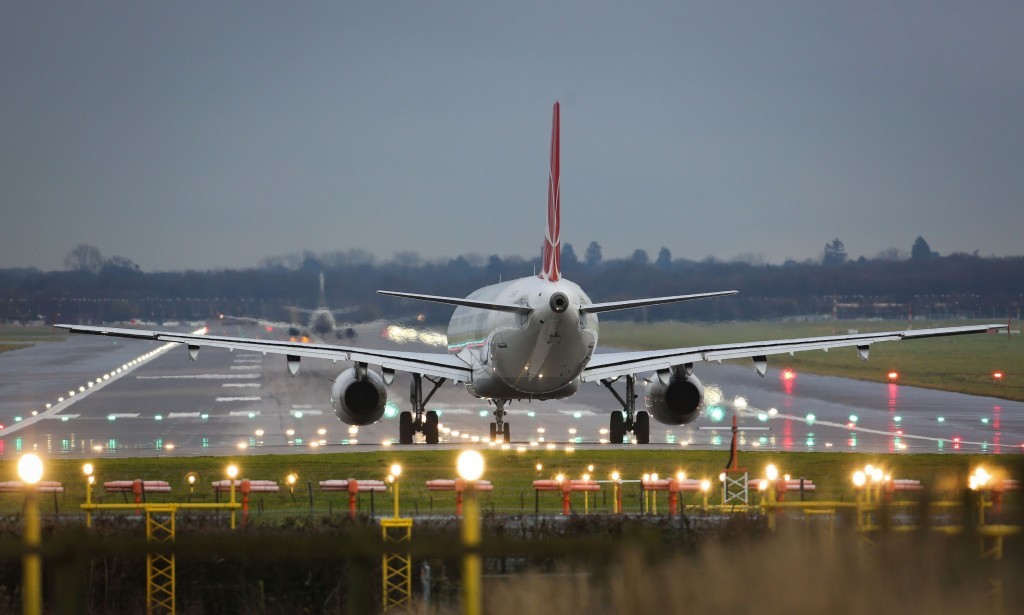 Airline passengers travelling to the UK from six countries in the Middle East and North Africa are to be banned from carrying laptops and other large electronic devices as cabin luggage, Downing Street has announced.
The ban affects direct inbound flights from Turkey, Lebanon, Jordan, Egypt, Tunisia and Saudi Arabia and covers devices which are larger than a typical smartphone measuring 16cm by 9.3cm by 1.5cm, which will now have to go in the plane's hold.
The move was ordered by Prime Minister Theresa May in the latest of a series of meetings on aviation security. Affected airlines were informed immediately, but may take a few days to implement the new security measure, said Number 10.
It follows a similar measure announced yesterday by the US authorities affecting flights originating in a longer list of eight, mainly Muslim, countries.
In February last year an explosive device concealed in a laptop was used to bomb an airliner after it took off from Mogadishu airport in Somalia, East Africa.
Mrs May's official spokesman declined to discuss whether the new rules were prompted by specific intelligence, while the US government cited unspecified "threats".
UK airlines operating direct flights which will be hit by the new measures are British Airways, easyJet, Jet2.com, Monarch, Thomas Cook and Thomson, while overseas airlines affected are Turkish Airlines, Pegasus Airlines, Atlasglobal Airlines, Middle East Airlines, EgyptAir, Royal Jordanian, Tunisair and Saudia.
Devices including Kindles and other e-readers will be banned from the cabin, along with hybrid devices such as the Microsoft Surface and iPad Pro, as well as the new Nintendo Switch gaming system.
Some travellers will be forced to pay extra fees for a checked bag if they want to use these gadgets at their destination.
Most smartphones, including the iPhone 7 Plus and Samsung Galaxy S7, will still be eligible to travel in cabin baggage.
Travel trade organisation Abta warned that laptops and tablets are not typically covered by travel insurance policies for loss, damage or theft if they are placed in the hold.
A spokeswoman for the organisation said: "Passengers travelling to the countries affected may wish to consider leaving their electronic devices at home, although this may be difficult for many."
Air industry consultant John Strickland warned that the ban will cause "headaches for airlines and customers" but said carriers have "no choice but to put security first" when official advice is given.
He added: "One unexpected consequence will be the challenge of additional devices with lithium batteries being stowed in the holds, which brings its own challenges to safety."
Transport Secretary Chris Grayling said: "We understand the frustration that these measures may cause and we are working with the aviation industry to minimise any impact."
The tightening of security comes just weeks after it was revealed that UK security services have foiled 13 potential attacks in less than four years, while counter-terrorism units are running more than 500 investigations
at any time.
In an earlier security measure introduced in July 2014, passengers at UK airports were advised to ensure that electronic devices were charged so they could be switched on or face not being allowed to take them onto the aircraft. The move came amid reports that two terror networks were working together on a bomb that could evade existing measures.
Announcing the new restrictions, a government spokesman said: "Decisions to make changes to our aviation security regime are never taken lightly. We will not hesitate to act in order to maintain the safety of the travelling public and we will work closely with our international partners to minimise any disruption these new measures may cause."
Britain has been in close touch with the US authorities over the issue, said the PM's spokesman. Asked why the US ban, affecting 10 named airports in eight countries, differs from that imposed by the UK, he told reporters: "We have each taken our own decisions. Our decisions are for us."
Shashank Joshi, senior research fellow at security think-tank the Royal United Services Institute, said: "It is unclear why
only some airlines and countries are affected, given that a potential attacker can easily re-route their journey."
He added: "The ban is also likely to cause further tension between the US and its Muslim-majority
allies, compounding the problems caused by the Muslim-focused travel ban.
"Without clarification, this risks being seen as a form of pointless 'security theatre' which causes great disruption with little benefit to aviation security."
The official threat level for international terrorism has stood at severe, meaning an attack is "highly likely", for more than two years.
US president Donald Trump has attempted to introduce a travel ban aimed at people from Muslim-majority countries, which has run into trouble in the US courts.
Recommended for you

North Sea workers' travel disrupted as war in Ukraine escalates