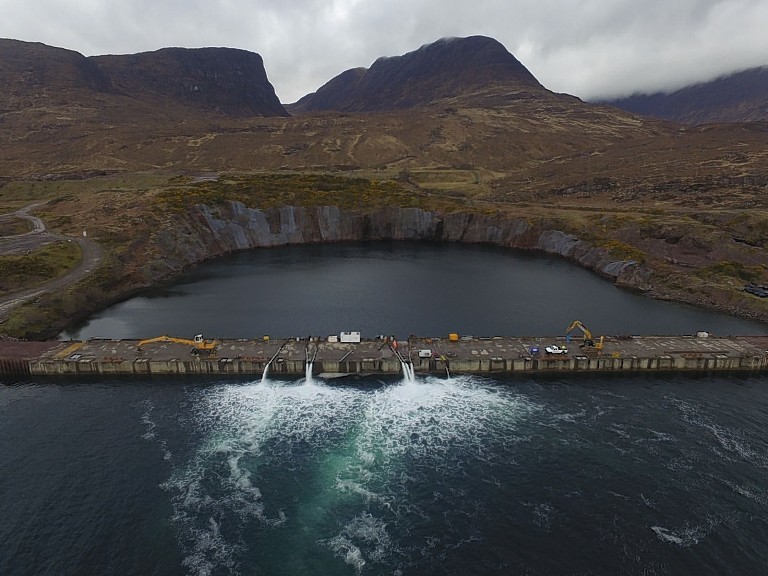 The owners of the former oil fabrication yard at Kishorn are understood to be preparing to make a major jobs announcement today.
It is expected the move will see the site's massive dry dock facility in Wester Ross, last used 24 years ago, brought back into operation.
Details of today's announcement were being kept under wraps until this morning and a spokesman for yard owners Kishorn Port Ltd declined to give any further information.
But it comes as work on restoring the dry dock, commissioned by the port's joint venture partners Ferguson Transport and Shipping and quarry firm Leiths (Scotland) Ltd, reached a new stage.
Earlier this week Lochaber-based Fergusons tweeted a picture of water being pumped out to empty the dock, with the caption: "The sleeping giant is being stirred…"
In February the port announced it had embarked the first phase of a plan to reinstate the dock, with a £500,000 project, backed by development agency Highlands and Islands Enterprise (HIE) to trial its gates.
At the time, Kishorn Port, said it had been "working hard over the past eight years to identify markets that need access to sheltered deep water, big lay down areas and a large dry dock."
The company told the markets it was investigating included the offshore renewables industry and that interest had also been expressed from the oil and gas fabrication and decommissioning sectors.
One of the largest facilities of its kind in western Europe, Kishorn's dry dock was last used in 1993 when caissons for the Skye Bridge were built there.
The port also has an on-site quarry and concrete production facilities.
In its 1970s heydays as a North Sea oil fabrication yard, around 3,ooo people were employed there building some of the industry's largest floating structures.