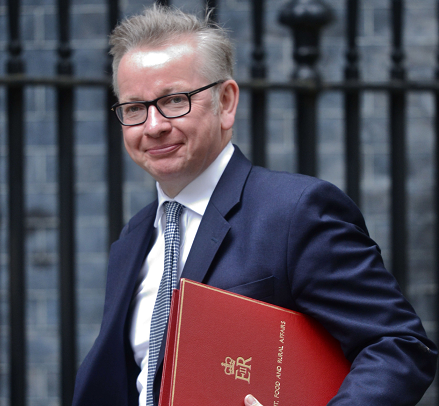 The new Environment Secretary has said Donald Trump was "wrong" to withdraw from the Paris climate accord.
The president's decision to pull the US out of the world's first comprehensive agreement on tackling climate change and seek renegotiated terms "fair" to America drew widespread international condemnation earlier this month.
Michael Gove returned to the Cabinet over the weekend after being sacked by Prime Minister Theresa May as justice secretary last July.
Quizzed on Good Morning Britain about whether President Trump was wrong to withdraw from the accord, Mr Gove said: "Yes, I think he is wrong. I think that we need international co-operation in order to deal with climate change.
"And I think the Paris Accord which my friend Amber Rudd had a huge role in helping to shape is a significant step forward.
"The only way in which you can deal with this challenge, the only way in which we can enhance the environment to pass on to our children in a better state is by working across borders."
The Paris accord commits countries to holding global temperature rises to "well below" 2C above pre-industrial levels, which will require global emissions to be cut to net zero by the second half of the century.
Scientists have warned that failure to curb dangerous climate change will lead to sea level rises, more intense storms and flooding, more extreme droughts, water shortages and heatwaves as well as massive loss of wildlife and reduction in crop yields, potentially sparking conflict and mass migration.
Despite the decision by the US, the second biggest polluter after China, to pull out of the deal, many analysts suggest the shift to a low-carbon economy is now unstoppable, with renewable prices tumbling and new clean technology being developed and deployed.
Speaking of Mr Gove's appointment, Green Party co-leader Caroline Lucas said he was "entirely unfit" to take on the position, adding: "It is hard to think of many politicians as ill-equipped for the role of Environment Secretary as Mr Gove."
In 2013, in his role as education secretary, Mr Gove was accused of trying to "airbrush" climate change from the national curriculum – but he told Good Morning Britain he "strengthened" the position of climate change on school syllabuses.
Recommended for you

The COP Shop Podcast #6: Reflections and the future, with Michael Matheson MSP