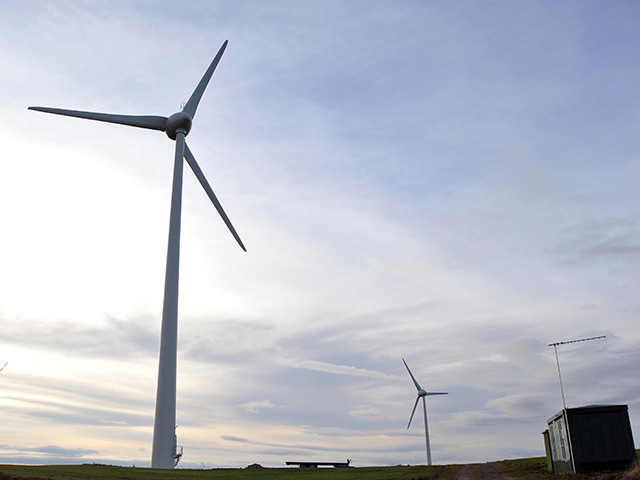 Residents on one of the UK's most remote inhabited islands are a step closer to having 24-hour power.
Islanders on the Fair Isle can face lights-out between 11pm and 7am when there is insufficient wind to generate power but £2.6 million has now been secured to ensure round-the-clock electricity.
The island, which lies 24 miles south of the Shetland mainland, has used a combination of wind and diesel power generation since the 1980s but only one of the existing two wind turbines is working and it has been operating intermittently for the past 18 months.
Electricity generated cannot be stored and there is no space for new customers, so community group the Fair Isle Electricity Company is leading plans to install three 60kW wind turbines, a 50kW solar array and battery storage.
The scheme will extend a high-voltage network to the north of the three-mile long island to enable grid connections to water treatment works, the airstrip, harbour and one of the main attractions on an island famed for its birdlife – the Fair Isle Bird Observatory.
The project is hoped to help boost the island's population of 55 and make life easier for islanders.
Highlands and Islands Enterprise (HIE) said the £2.6 million funding package is now complete after it awarded the final £250,000, with other contributors including the European Regional
Development Fund, Shetlands Islands Council and the National Trust for Scotland, which has owned the island since 1954.
Fair Isle Electricity Company director Robert Mitchell said: "Having a constant electricity source may help to attract more people to live in Fair Isle as well as benefit the residents.
"It will also bring new employment opportunities and sustain existing employment.
"This ambitious project is the first step in ensuring that the community of Fair Isle continues to thrive."
Fiona Stirling, development manager at HIE's Shetland area team, said: "It's a key factor in attracting new people to the island as well as helping businesses to develop.
"The new energy system will also be cleaner and greener, and will reduce reliance on expensive diesel, hence making living costs more sustainable."
Recommended for you

Brian Wilson: Western Isles' power generation hopes hit once again