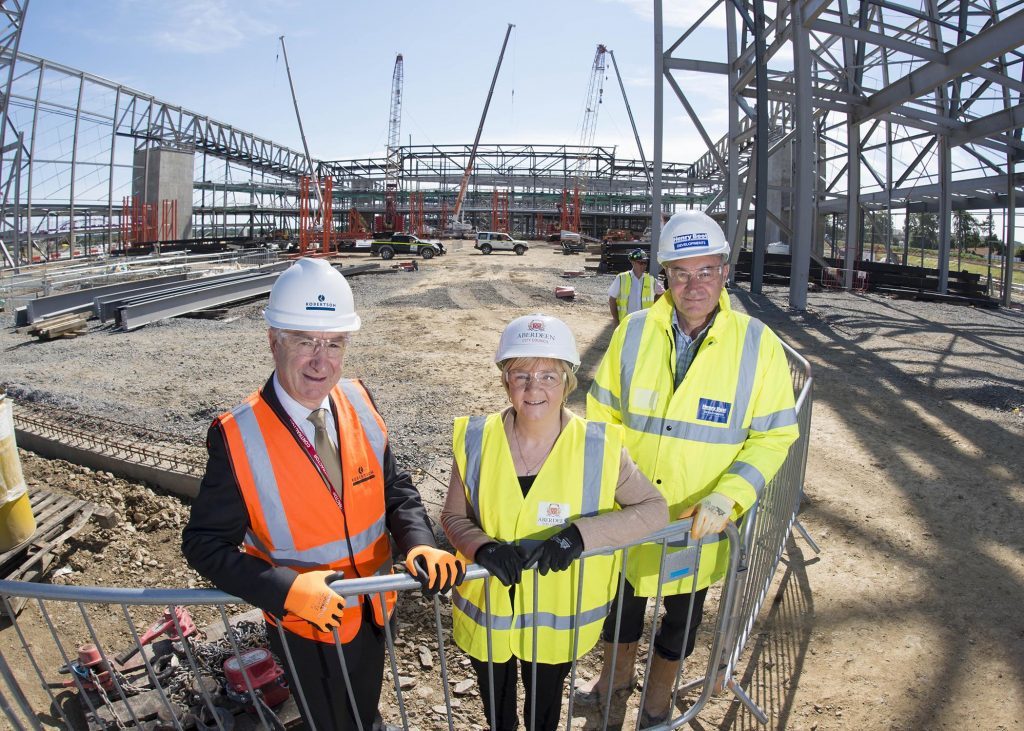 Huge steel beams are being lowered into place to form the arena of the new £333million Aberdeen Exhibition and Conference Centre (AECC).
The painstaking procedure got under way yesterday, with two specialised cranes called in to help
manoeuvre them into position.
The 14 trusses which will form the width of the venue each weigh 84 tonnes – which is the equivalent of 56 medium-sized cars.
Aberdeen City Council leader Jenny Laing looked on as two cranes each took an end of the 288ft-long girders and clanked them into place.
Speaking afterwards, she said the arena was now "really taking shape".
She added: "When you see the size of the building, you realise what a significant development this is for the city.
"We are confident that the scale and quality of the new AECC will ensure it competes with the best national and international venues, and it will play an important role in helping to grow our local economy."
The replacement building will provide four times the exhibition space of the existing AECC, and increase the crowd capacity to 12,500.
Construction on the facility, which is expected to attract global stars and major events to the north-east, is due to finish in 2019. The council estimates that 4.5 million more people will flock to Aberdeen to witness spectacular live shows at the new AECC over the next decade. They say that will boost the city's economy by £113million in visitor spend, and anticipate the centre to offer 352 full-time jobs by 2029.
The local authority has partnered with Henry Boot Developments for the project, and the Robertson Group has been appointed as the main contractor for the construction work – which itself created 600 jobs.
The firm's founder and executive chairman, Bill Robertson, said the installation of the steelwork represented a "significant milestone".
He added: "The sheer size of the trusses makes this a particularly complex undertaking, with our team using their considerable experience to ensure the process goes to plan.
"As main contractor for the new AECC, we were pleased to welcome the leader of Aberdeen City Council to the site to see the ongoing progress.
"The venue will be of huge value for the entire region and it is an honour to be delivering this project."
Recommended for you

Exclusive: AREG to launch new clean energy conference in Aberdeen