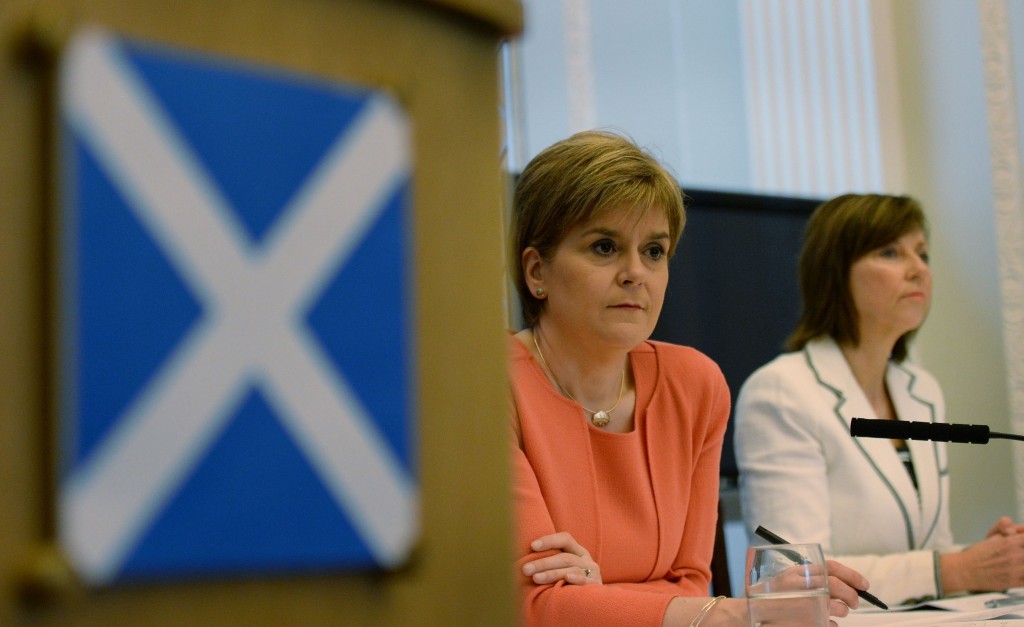 Nicola Sturgeon has called on Scotland's businesses to come up with the hi-tech products that will shape the future, as she announced £45 million of extra public funding for research and development work.
With economies across the world facing changes such as the move away from oil and gas and the increased use of robots and automation, she said she wanted Scotland "not only to embrace but to lead the key technological and social changes".
The economy will be "very much at the heart" of her government's plans for the coming year, she pledged.
The First Minister said the "relatively slow economic growth we've seen in the last couple of years, largely caused by the downturn in the oil and gas sector" highlighted the need for change.
Economic growth has previously lagged behind the levels experienced across the UK, and while Ms Sturgeon said Scotland had now "virtually closed what used to be a very significant productivity gap", levels were still "significantly behind" those seen in many European countries.
The SNP leader said: "Scotland wants not only to embrace but to lead the key technological and social changes of the future. This is a fundamental point.
"I want Scotland to be the inventor and the producer of the innovations that will shape the future, not just the consumer of those innovations.
"New technology is key to the productivity improvements that can then raise living standards for all."
Public support for research and development work will increase from £22 million to £37 million per year for the next three years, Ms Sturgeon announced – potentially enabling as much as £270 million of spending by businesses.
Next week's programme for government will also lay out plans to make Scotland an "early adopter" of electric vehicle technology – with the First Minister promising to set "clear and bold ambitions not just in the interest of our environment, important though that is, but also of our economy".
In addition the Scottish Government is proposing further support for graduate entrepreneurs and help for companies to access finance.
Ms Sturgeon said: "Right across Scotland jobs are already being created in the key sectors of the future and our promise to businesses whether you are based in
Scotland or elsewhere in the world is that if you invest here we will provide a stable, supportive, business-friendly environment.
"We want want to be the best place in the world to establish an innovative business."
More will also be done to encourage businesses in Scotland to sell their goods and products overseas, as currently half of all exports currently come from just 70 companies.
The plans were announced in a speech at Spirit AeroSystems in Prestwick, where Ms Sturgeon confirmed the Ayrshire- based firm has won a contract to manufacture the spoilers for the wings of the new Airbus A320 aircraft – a deal that will create 100 jobs there.
She stressed the government policies would be implemented regardless of what happens with Brexit.
The First Minister said: "We know that leaving the European Union is very likely to make business conditions more difficult and we will take account of that and do everything we can to mitigate that."
She continued to make the case for Scotland to be allowed to adopt its own approach towards the European single market and immigration, saying that ensuring the country can "continue to attract the best skills and talent from across Europe and the world is absolutely vital to our economic success now and in future".
Ministers will set out in detail how they believe such a system could work later this year.
Ms Sturgeon said: "It's really important we address this debate and don't allow our economic interests to be damaged.
"That's why the UK Government's approach to Brexit is, in my view, so infuriating. It's abandoning something Scotland's economy benefits hugely from, which is our
membership of the single market, in order to try to restrict something else Scotland's economy really needs, which is freedom of movement for workers.
"We believe it is appropriate – essential in fact – for Scotland to have special flexibility and we will table detailed proposals on both the case for that and setting out the practicalities of how it would work later this year."
Recommended for you

Invest ABZ in pictures