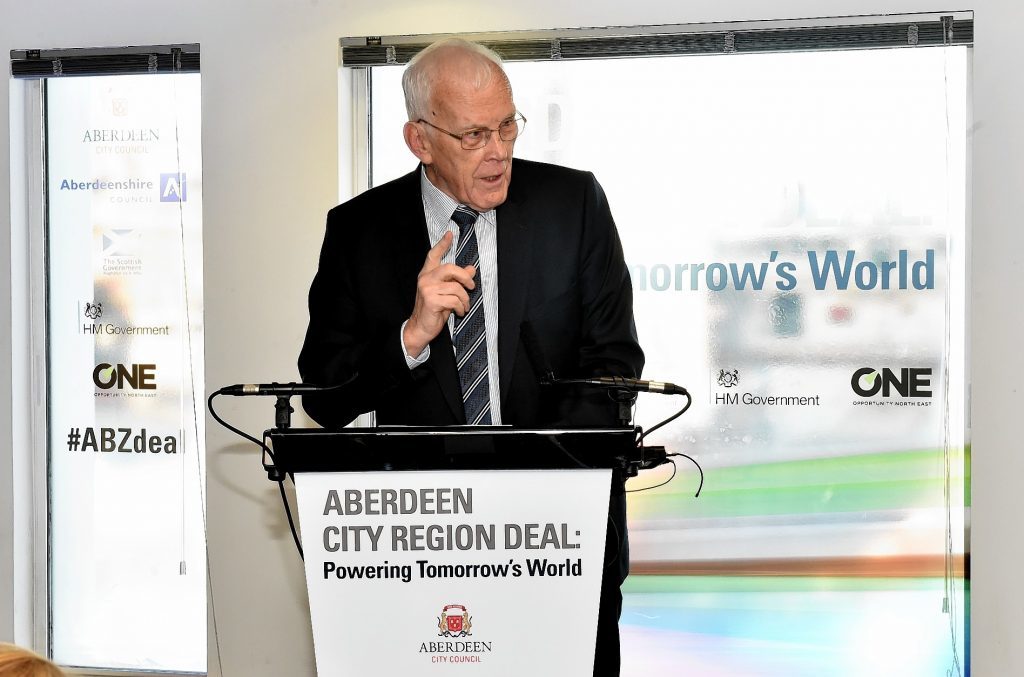 Major investments have been made to secure long-term economic growth and employment through the Aberdeen City Region Deal, it was claimed yesterday.
The £250million pledge was signed at a ceremony at Aberdeen's townhouse a year ago to help improve infrastructure in Aberdeen and Aberdeenshire and attract more job opportunities to the region.
A total of £180million of the deal has already been allocated to the new Oil and Gas Technology Centre (OGTC) which was launched in February, to anchor the oil and gas supply chain in the area.
The region was also selected as a pilot for ultra-fast broadband in September, while consultants have been appointed to carry out an assessment of the region's transport needs of the area over the next 20 years.
The Scottish secretary claims hundreds of millions of pounds worth of local investment and hundreds of high skilled jobs are among the riches still to come from the special deal.
And ONE chairman Sir Ian Wood said: "£210m of the deal funding is allocated to the three innovation projects developed by ONE with industry and other stakeholders – The Oil and Gas Technology Centre, the Bio-Therapeutics Hub for Innovation and the Agri Food and Nutrition Hub for Innovation.
"These are major investments into our key industry sectors and will catalyse economic growth, productivity, and support high-value employment in the medium to long-term."
With a 10-year life span, it is predicted that as much as £826million could be pumped into the north-east from the collaboration between the UK and Scottish governments, Aberdeen City and Aberdeenshire councils and business body Opportunity North East (ONE).
But questions have been asked about when citizens will see the benefits – and the fate of further projects like high-speed rail links. Business leaders have expressed frustration at the lack of action in boosting digital connectivity.
Scottish Cabinet Secretary for Economy Keith Brown said: "This is just 'year one', and there is much work still to be done in order to achieve our aims of broadening the economic base and driving inclusive growth by enhancing alignment between national, regional and local ambitions."
Aberdeenshire Council leader Jim Gifford said: "During an undisputedly challenging time for our region, the City Region Deal has been key in enabling us to take strides in the realisation of our economic vision, build on our strengths and create opportunities for our region to flourish."
City council co-leader Jenny Laing added: "It took a great deal of planning to secure the Aberdeen City Region Deal – but when we signed the agreement in November 2016 we said it marked the start of a journey, not the end. In the months and years ahead those positive outcomes will become even more visible and the impact on the region's economy will become clear."
Former city council finance convener Willie Young, who helped hammer out the deal before leaving office this May, said it had always been the amition of the authority to pursue a second city deal. He said: "People forget that there is still this opportunity to go back to the government – city deal one was about the projects, city deal two is about the infrastructure. Aberdeen is the engine of the Scottish economy but we need to be able to pull the levers of power for ourselves."
Recommended for you

Royal opening for £420m Port of Aberdeen expansion