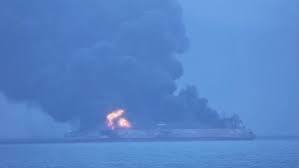 Firefighting vessels have resumed attempts to put out a blaze aboard an oil tanker in the East China Sea, according to media reports.
The reports on Thursday follow an explosion aboard the Sanchi, whose 32-member crew is still mostly missing.
Photos on the Ministry of Transportation's microblog showed thick black smoke pouring out of the ship on Thursday morning.
Rescuers on Tuesday found a body believed to be a crewmember from the Iranian-operated tanker but there has been no sign of survivors.
Chinese officials have warned the tanker could explode and sink, possibly triggering an environmental disaster.
The Sanchi was carrying nearly one million barrels of condensate – a type of gassy, ultra-light oil – when it collided on Saturday evening with a freighter 160 miles from Shanghai and caught fire.