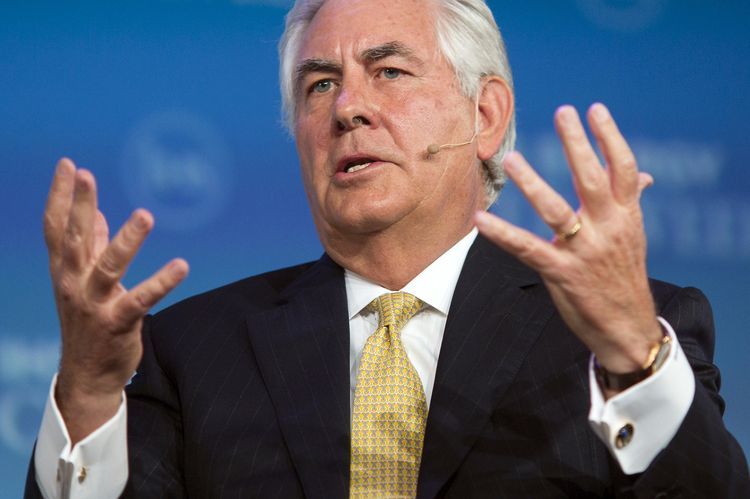 Donald Trump has fired US Secretary of State Rex Tillerson and replaced him with CIA director Mike Pompeo.
The US president said Gina Haspel will become the new CIA director, the first woman chosen for the job.
Mr Trump tweeted that Mr Pompeo, "will do a fantastic job!" and thanked Mr Tillerson for his service.
He said he made the decision to sack his secretary of state "by myself" and that Mr Tillerson will be "much happier now" .
The president said he and Mr Tillerson had been "talking about this for a long time" and they had disagreed on issues like the Iran deal.
A senior State Department official said Mr Trump never explained to Mr Tillerson the reason why he was fired.
The undersecretary of state for public diplomacy, Steve Goldstein, said Mr Tillerson "had every intention of staying" in the job because he felt he was making critical progress in national security.
Two White House officials have said Mr Tillerson was told he was out on Friday, but Mr Goldstein said he "did not speak to the president and is unaware of the reason".
Mr Tillerson had returned from a shortened trip to Africa hours before Mr Trump's announcement, which offered no explanation for the change.
A White House official said Mr Trump wanted to have a new team in place before upcoming talks with North Korea and various trade negotiations.
There had been rumours throughout most of Mr Tillerson's tenure of friction between Mr Trump and his secretary of state, a former ExxonMobile chief executive.
In October, NBC news reported that Mr Tillerson called the president a "moron," something he never actually denied.
Mr Tillerson continued to insist his relationship with the president was solid and brushed off rumours of strain between them.
He was due to retire from Exxon in March 2017 aged 65 under the company's mandatory retirement policy.
Mr Tillerson was paid 27.3 million dollars (£19.5 million) last year, and has accumulated roughly 160 million dollars (£115 million) in Exxon stock along with 149 million dollars (£107 million) of unvested stock options.
Recommended for you

Indonesia's Pertamina and ExxonMobil sign CCS and hydrogen pact