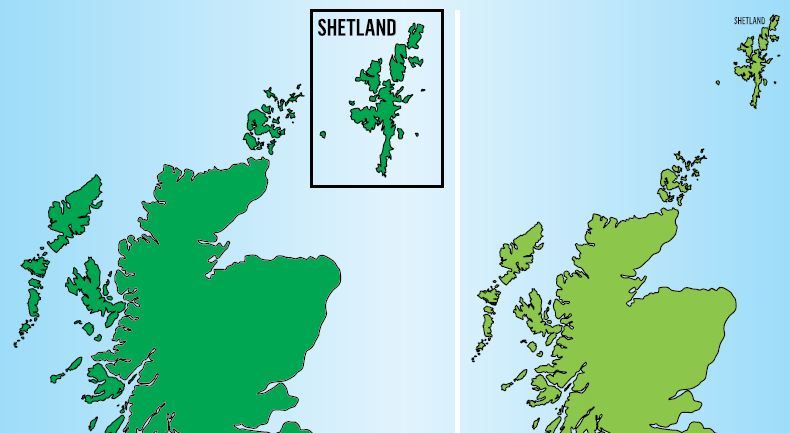 Shetland will no longer be "put in a box" on official maps in Scotland amid complaints that it reinforces the perception that the islands are an "afterthought".
The Scottish Government said last night that it had instructed its publishing contractor to in future "portray our islands accurately" on official publications.
The move was announced after Shetland MSP Tavish Scott launched a bid to have Shetland's "right place" on Scotland's map enshrined in law.
The Liberal Democrat revealed he would table an amendment to the Islands Bill going through Holyrood this week that would require all official documents to "accurately and proportionately represent" Shetland's geographical location.
He said the move aimed to address frustration on the islands that they are regularly shown in a box next to Orkney, despite being 50 miles away, and that Shetland is even pictured in a box on the Clydesdale Bank's £5 note.
Mr Scott said: "Shetlanders are rightly irked when they see Shetland placed  in a box in the Moray Firth."I strongly believe the Scottish Government should portray the country it serves with accuracy.
"The principle is important here.
"A recent Scottish Government strategy on loneliness made this geographical mistake.
"I asked Scotland's most senior civil servant to correct the error.
"But from now on, I want to ensure that mistake just cannot happen.
"Putting Shetland in its appropriate place would go some way to rectifying the perception that the islands are an afterthought," added Mr Scott.
"It will visually align the government with its stated political commitment to island-proofing.
"I therefore trust the government will accept this amendment."
After being asked to respond to the amendment, a Scottish Government spokesman said: "We have instructed our publishing contractor that future  use of images of Scotland in publications must
portray our islands accurately."
He added that the decision had been taken  prior to Mr Scott's amendment.
The Press and Journal reported yesterday that Mr Scott and Orkney MSP Liam McArthur will lodge a series of amendments to the Islands Bill.
The draft legislation will enshrine a requirement to "island-proof" future laws and policies to ensure they do not harm the interests of the islands.
But the Lib Dem MSPs will challenge Scottish ministers to accept that the principle should be applied retrospectively to existing laws as well.