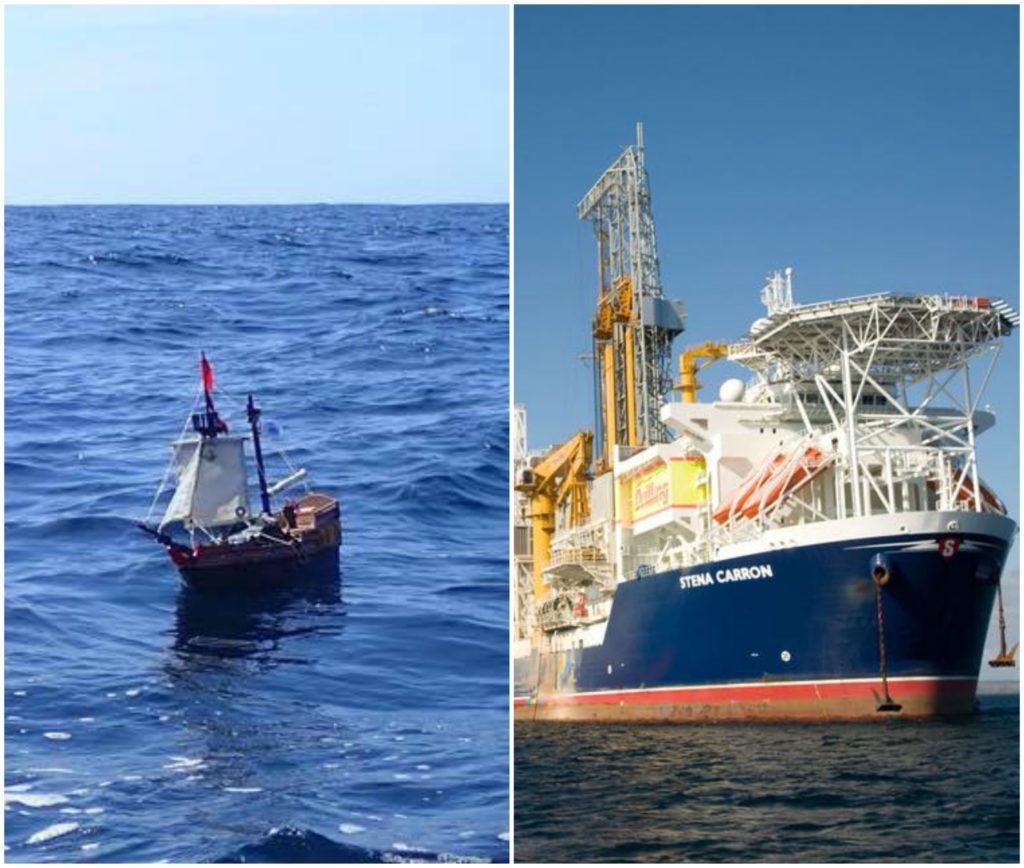 An offshore drilling ship has been drafted in to help the search for a toy boat currently on a 3,000 mile journey across the Atlantic Ocean.
The boat named "Adventure" is owned by Peterhead boys Ollie (8) and Harry Ferguson (5) and was launched off the coast of Mauritania in November, with the aim of reaching the Americas.
The toy ship was launched as part of a "sandbucket list" of 500 adventures set up by the boys' father MacNeill Ferguson, which is chronicled in their Facebook page "The Days are Just Packed".
After travelling more than 2,000 miles, it is now running on low battery and it is feared the boat's tracker will fail, meaning the brothers will never know if it has reached its destination.
It is now around 100 miles off the coast of Guyana, and around 35 miles from Stena Carron, a ship owned by Aberdeen-based Stena Drilling.
The crew have offered to help find the boat if it comes close to their position, recharge its batteries and send it along the remainder of their journey.
However, it has recently changed course meaning the Stena Carron may be unable to recover it.
Mr Ferguson, said: "We have been watching her make her way across, facing waves about 20 metres high, it's amazing that she has made it all the way across to Guyana.
"There were problems last week when she didn't ping and we were contacted by people on the Stena Carron and I ended up speaking to the OIM (offshore installation manager) who said if it comes near to them they would pick her up for us.
"They had all 160 crew looking out for it. They were all on this rescue mission for our little boys' boat.
"I think she came about 35 miles away from the Stena Carron. It was too much to ask them to go all that way from the rig. They told us to keep sending those coordinates and they are going to keep on the lookout for it.
"She is still sailing but we have little battery left. If she doesn't land in the next few weeks we won't know where she is."
Adventure is currently on course to land somewhere in the Caribbean.
If it can be recovered, the family then plan to once again set it off, this time across the Pacific.
Stuart Greer, operations manager with Stena Drilling, said: "We have alerted the other vessels in the area and may still be able to intercept it with one of the supply vessels, therefore we'll keep in touch with the family and continue to monitor.
"If it turns up in Guyana or Trinidad we have offered to have it transported back to the UK as the family has indicated that they would like to begin the adventure again but this time in the Pacific.
"This is a remarkable story generating a lot of excitement whilst capturing the hearts of the crews of the Carron. It's astonishing that a plastic toy boat could travel across the Atlantic."
Despite the recent issues, Harry and Ollie's dad MacNeill says they have enjoyed tracking its progress.
He said: "They love it, they want us to do another similar adventure.
"We are just waiting to see if we can get that boat back or if we will need to get another one. They have an expectation now to do fun and wacky things and it's a pleasure to get them to do things like our adventures."
Adventure's progress can be tracked via its dedicated website: https://track-adventure.squarespace.com/