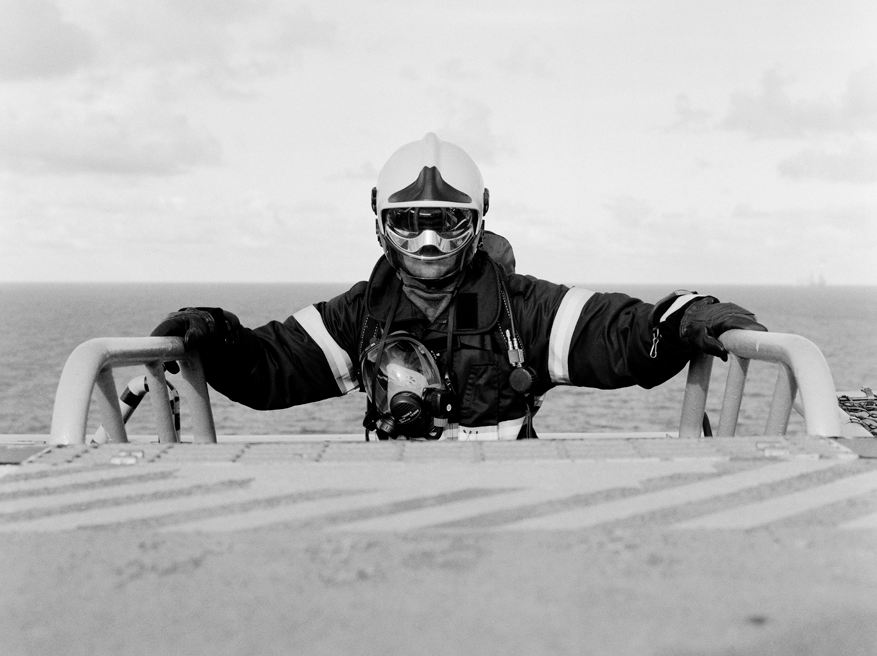 Navigating a career change can be one of the most difficult things that some people will ever undertake.
Having worked freelance for 12 years, photographer Peter Iain Campbell decided in 2013 that he wanted to take on a project that was starkly different from anything he'd done before.
"He wanted to live and work among offshore workers to document their experience and hopefully get enough shots to build a collection.
Mr Campbell's offshore journey has continued for more than four years and has seen him become a true North Sea rig worker to create the collected works titled Starlings on Fire.
"I realised that I had to move my career in a new direction and I'd always been interested in heavy industry, and in a sense it seemed a logical step to go to a Scottish industry that was still very active," said Mr Campbell.
"So, I decided at the end of 2013 to do my offshore certificates and actually look for work as a rig worker.
"I realised very quickly that no one was going to pay me to do this quasi-offshore documentary photography project, so I got a job on the Prospector 1 drilling rig and I was there for two years working three weeks on, three weeks off.
"If you've not been offshore before it's a pretty unique experience. At the time I was doing my certificates it seemed like a really good time to get into the industry so I thought there was maybe scope for me to develop a career while I was out there."
Instead of taking on the role of casual observer, Mr Campbell grafted cheek-by-jowl with other rig workers, documenting their day-to-day experience with his eyes and then his lens.
The photographer managed to forge strong relationships with rig management and crew, gaining their trust to the point where they would pose for shots and facilitate access around the platform.
"It can be a difficult environment," said Mr Campbell. "Even though you might be sharing a rig or a platform with 140 other people, it can be quite isolating.
"Especially on some of the newer drilling rigs, it can be quite intense. I wanted to document that.
"You're away for three weeks at a time and I've got a family with young kids, that was a new experience to have to adjust to.
"But even when I was working 12-hour shifts I was planning shots that I wanted to take because I'd acknowledged that I had this unprecedented access."
Despite having a dual purpose offshore, Mr Campbell wasn't insulated from the effects of the oil downturn, eventually being placed in a pool that would take him from the relative comfort of the Prospector 1 to wherever work was available.
"The rig that I was on was contracted in the Franklin Elgin field and around 2016 a lot of the crew were made redundant and I dropped into what was called an 'ad hoc pool' so I spent a year moving around from rig to platform," he said.
"So I saw that the rig I was on hadn't wanted guys who were set in their ways. They wanted a young crew and I really connected with some of them, so it wasn't the 'blokeish, laddish, alpha-male' sort of culture as much."
Mr Campbell said his unique experience gave him a greater perspective of how hard the work is offshore; not only in terms of physical labour, but of how to get through the emotional and mental issues that often arise when you've got hundreds of people occupying the same space for such a long period of time.
He said: "One of things that people don't appreciate about being offshore is that if someone back on land has issues at their work with one or two colleagues they can sort of leave them behind at the end of the day, at 5pm.
"But when you're offshore, boy-oh-boy, things are amplified. If you've got problems with your colleagues, that charged atmosphere can still be in your cabin at night. You have to find ways to process it. That can be hard, particularly when you're away from your family and friends."
By documenting the life of offshore workers through pictures, Mr Campbell has managed to show the intense and isolated nature of their lives.
He feels he's found a niche for himself – so much so that he's got another project in the pipeline where he'll be capturing the work done on offshore supply vessels. He said:
"I so thoroughly enjoyed my experience. I had difficult times like everyone does, but it was so unique and I was delighted I'd chosen that path.
"I pretty much finished working offshore in about October last year. I had been moving around from place to place and it was harder to get the opportunity to do any shooting, so I wasn't enjoying it as much.
"I'm about to take on a much larger project on the supply vessels and I'll be going out next week, so I've got this plan for a big project documenting the North Sea from that side."
Recommended for you

Unite plans 'hard-hitting' campaign to canvass energy workers