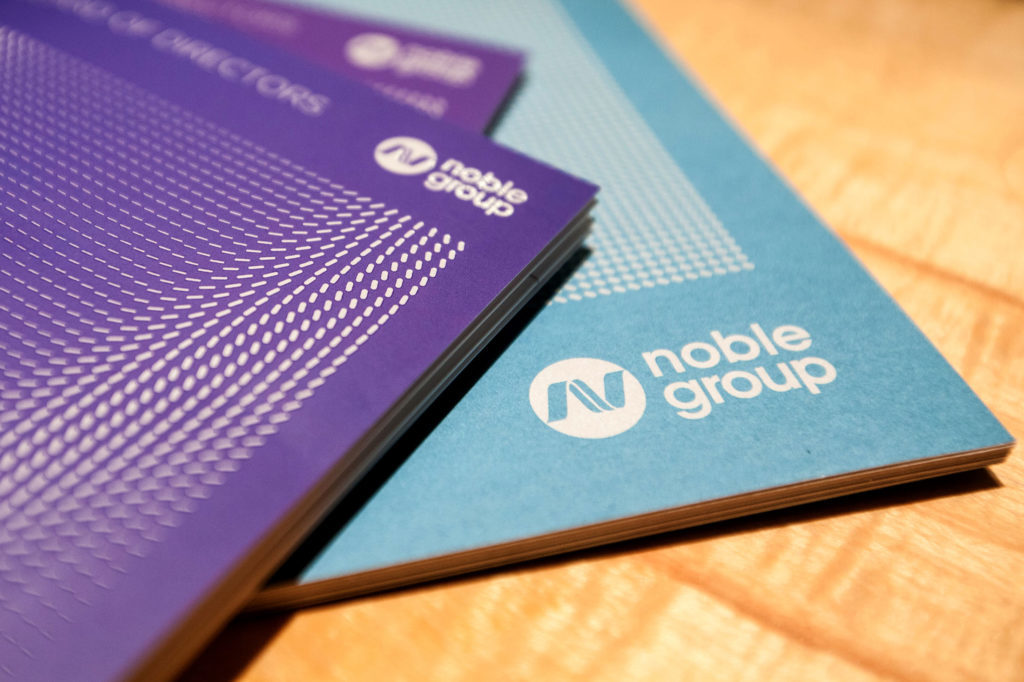 Noble Group Ltd. suspended its shares in Singapore on Monday pending an announcement, as efforts to get shareholder agreement on its controversial $3.5 billion debt restructuring plan drag on longer than expected.
The stock fell to a record low of 5 Singapore cents last week before closing at 5.4 cents on Thursday prior to a public holiday. Once Asia's largest commodity trader, the company has seen its market value shrink to about $50 million from more than $10 billion in 2010.
After three years of decline featuring billions of dollars in losses, a debt default, law suits and, more recently, a spate of public sparring with shareholder Goldilocks Investment Co., the trader is struggling to pass a rescue deal that will swap half the debt for equity and hand control to creditors. The company's original plan was to complete the restructuring by July.
While the plan has been backed by some 85 percent of senior creditors, as well as founder and largest shareholder Richard Elman, it's run into fierce opposition from Goldilocks. The Abu Dhabi-based investment fund has sued the trader, as well as the banks and hedge funds supporting the proposal, to halt the restructuring.
To get the deal over the line, Chairman Paul Brough needs approvals from shareholders as well as creditors. The company is working on a circular to send to stock holders, before a special general meeting yet to be scheduled.
Brough has said that if shareholders don't approve the plan, the company would opt for a pre-packaged administration in the U.K. to implement the restructuring. An external representative for Noble Group couldn't be immediately reached for comment on Monday.
Hires Adviser
The trader has hired Provenance Capital Pte as an independent adviser to assess whether the proposed restructuring is fair, complying with a request from the Singapore regulator after the deal ran into opposition. Provenance's view needs to be included in the circular on the deal that's sent to holders.
Brough told analysts during the first quarter earnings call that he would be "quite happy" if the company could issue the circular by the end of May.
In another development, Pinpoint Asset Management Ltd. and Value Partners Ltd. have filed a claim against Noble Group in a U.K. court, according to an online search of cases there, which gave no further details. Pinpoint Asset Management is part of a group of perpetual bondholders, which was said in May to be close to a debt workout agreement with the trader.
'Too Speculative'
Noble Group's perpetual bonds fell 2.3 cents to 7.3 cents on the dollar by 1:12 p.m. in Singapore on Monday, and headed for the biggest one-day decline since January. The trader's defaulted 2018 notes climbed 0.9 cent to 40.1 cents on the dollar, recouping part of the 2.7 cent drop on Friday.
"Looking at the market reaction on the perps, there might have been disruptions to the discussions between Noble and its perpetual bondholders," said Ang Chung Yuh, senior fixed-income analyst at iFast Corp. "Until the parties explain the situation, it is too speculative to trade this credit."
The company's trading operations have been racking up losses as the restructuring talks continue. It lost $71.5 million in the three months through March as revenue sank almost 40 percent from a year earlier to $1.2 billion. That follows a full-year shortfall of almost $5 billion in 2017.