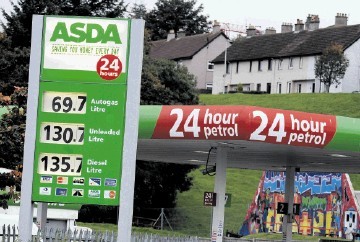 Three supermarkets have announced fuel price cuts for the second time in a fortnight amid a fall in wholesale costs.
Asda, Morrisons and Sainsbury's will reduce the price of unleaded by up to 2p per litre and diesel by up to 1p.
On Monday, average UK forecourt prices stood at £1.28 per litre for unleaded and £1.32 for diesel.
This is a reduction of less than one pence from the previous week, when prices were at the highest level since September 2014.
A litre of petrol is now 13p more expensive than a year ago, the RAC said.
Campaigners have accused retailers of refusing to pass on a recent fall in wholesale costs.
The price of a barrel of oil has fallen from 80 US dollars on May 23 to 73 US dollars this week.
A decision by oil cartel Opec to lift production restrictions in Vienna on Friday could also lead to cheaper fuel.
RAC fuel spokesman Simon Williams said: "It's great to see supermarkets passing on savings in the wholesale cost of fuel to motorists who have endured rising prices at the pumps since the end of March.
"A litre of petrol is now 13p more expensive than a year ago while diesel is 15p dearer so every penny that comes off the forecourt price is very welcome."
AA fuel price spokesman Luke Bosdet said: "Our analysis of pump prices this week found that UK drivers are being overcharged by 2p a litre or £1 a tank.
"One supermarket has been charging as much as 10p a litre or a fiver a tank more for petrol compared to other sites they own. Hopefully, the football pitch won't be the only place where drivers see the big saves."
Recommended for you

Next Prime Minister faces 150% energy price shock for UK