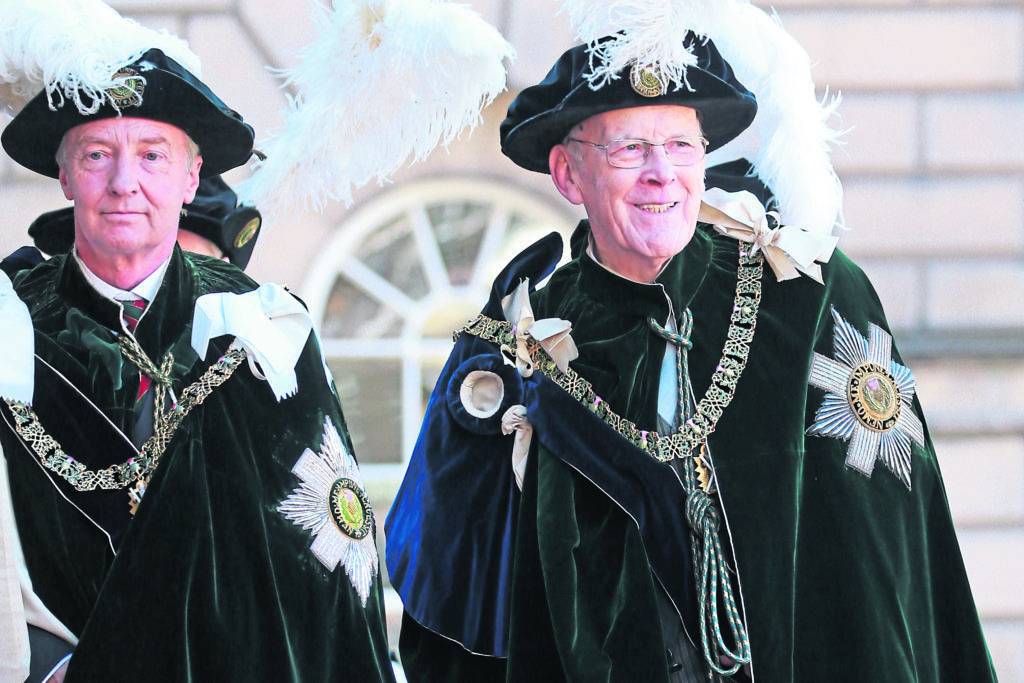 Sir Ian Wood has worn many hats over the years; North Sea oil and gas doyen, shrewd businessman, selfless philanthropist and proud family man.
But his latest piece of headgear is, in his own words: "it's not, erm, it's not me".
The new rather ostentatious piece, which looks part peacock, part Peaky Blinders cap, comes courtesy of his new title.
In a ceremony at St Giles Cathedral in Edinburgh yesterday the former Wood Group chairman was awarded Scotland's highest honour by her Majesty the Queen.
Just 16 people are allowed to hold the title of Knight of the Most Ancient and Most Noble Order of the Thistle at any one time.
Speaking beforehand, Sir Ian said: "It's a very formal ceremony but it is wonderful pomp and circumstance, there is no doubt about that."
Having grown his father's fishing company into a multi-billion-pound oil service giant operating in more than 50 countries worldwide, Sir Ian Wood knows a thing or two about business.
He said: "I am really proud of the job I did at Wood Group. I was there for 42 years that was a very exciting international adventure.
"We finished off with 42,000 people in 50 countries around the world, but I am not so much proud of that, as I am proud of the people at Wood Group."
As one of Scotland's richest men, with a fortune to the tune of some £1.6bn, he also knows a thing about investing money wisely.
It is this solid business acumen, thrifty attitude to spending and well-honed patience that has helped him win the trust of thousands of farmers in eastern Africa.
Seven years ago his family trust the Wood Foundation acquired a 60% stake in two tea factories in the stunning mist-covered hills of Rwanda.
The other 40% of the equity is held by the 6,000 farmers who have small tea farms which supply the sites.
The foundation's share will be handed over to the workers when specific financial and governance criteria are met.
The project was set up by Sir Ian's trust in order to allow poor families to work for a better quality of life.
He said: "The farmers were quite naturally suspicious and it took us quite a long time to get to the stage where I think we had developed a reasonable degree of trust.
"At the end of last year and the beginning of this year we had two celebrations, which the farmers wanted, and more than 1,000 turned up.
"That's a moment where I felt proud, a lot of these guys and ladies had walked overnight to be there and they spent four hours singing and dancing, each giving testimonies in their own way, about what they had managed to achieve for their children. Their income has increased three times."
Among the many other plates he manages to keep spinning is business development body Opportunity North East (ONE) which was set up with £62 million from the trust.
Sir Ian said: "If in five years time you ask me again what I am most proud of I think ONE will be at the top of the list, I think they are doing an excellent job for the region."
With so much on the go, it could be tricky to single out one thing Sir Ian will forever be remembered for.
However when asked what he thought his legacy would be he answered in a somewhat light-hearted response.
He said: "The hospital car park is unbelievably popular in Aberdeen. I suspect that Lady Helen's car park will be a bit of a legacy for my wife."
But the impact he is most keen to make, is one on the next generation.
The Wood Foundation has 31,000 youngsters working with the youth and philanthropy initiative spread over 230 schools in Scotland who visit charities in their neighbourhoods.
The school children then have to think of ways to help the charity – which will in turn receive £3,000 from the trust.
Sir Ian said: "That's 31,000 kids for the first time involved in trying to understand what the issues and problems are in their community and most importantly there's a thought in their head that they can do something about it.
"It's not about money it's actually about caring in your local community. I think and hope it's not my legacy but the team's legacy if these kids can learn that there is more to life than money."
Recommended for you

The Energy Capital MP: New SNP Commons leader Flynn's North Sea record