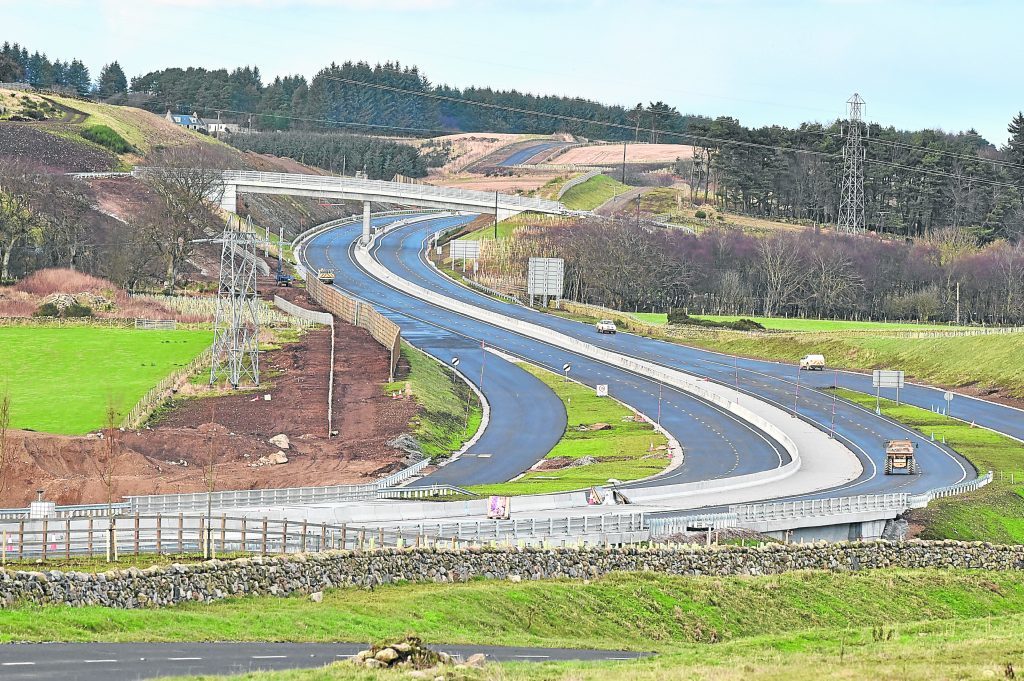 Motorists will face a further three months of speed restrictions once the Aberdeen bypass has finished.
Transport Scotland yesterday revealed details of almost 30 restrictions that will be in place once the AWPR is open.
The temporary limits of 40mph and 50mph will be in place because of the "likelihood of danger to the public, or of serious damage to the road".
And while Transport Scotland last night insisted it was routine practice for such a major project, political opponents accused them of trying to mislead the public – and likened it to the new Queensferry Crossing opening.
The much-heralded bridge had to be closed a number of times for works, and earlier this month ministers admitted the project would not be fully finished for another 18 months.
The £745 million bypass is due to open in the late autumn, after being hit by several delays.
But in a public notice published yesterday, Transport Scotland revealed that restrictions will be in place at 26 sections of the 36-mile road, mainly beside junctions and sliproads connecting with the existing network.
Some stretches of bypass earmarked for the speed measures include just over a mile of 50mph restrictions northbound from the AWPR's junction at Kingswells.
Shorter areas of 40mph zones, ranging from a dozen feet to around 0.2 miles, will be enforced on the bypass near turn-offs at Deeside, Stonehaven and Craibstone.
The temporary speed measures are in place from today until November 30.
North East MSP Lewis Macdonald said: "This looks like it will be open in a piecemeal fashion without a clear and consistent speed limit for road users.
"What we don't want is a repeat of the Queensferry Crossing where the government opened it earlier just to say it was open and have spent months and potentially years finishing it.
"Most people would prefer to have a firm date where they can get the road in a good condition and can use it at a normal speed.
"With the amount of money that's been invested and the quality of the design, this is going to be a fantastic piece of infrastructure, but this will only happen when the road is fully open and drivers can use it freely."
News of the restrictions comes a week after the National Farmers' Union demanded roads bosses overturn a ban on tractors and heavy farm traffic on the route.
The bypass has been given a special designation which prevents agricultural vehicles from travelling more than a mile between farm land, unless they are being used for horticultural purposes, effectively barring them entirely.
Andrew Bowie, MP for West Aberdeenshire and Kincardine, said it appeared the road was still a "long way" from fully opening.
"There has been an enormous amount of disruption during construction of the AWPR, and drivers deserve huge credit for their patience," he added.
"However, looking at the sheer number of road orders and restrictions on speed, it seems that this is something of a false opening. Cars are only being allowed to travel at 40mph in some sections.
"We are clearly still a long way off from motorists experiencing the full benefit of this bypass project."
A Transport Scotland spokesman said: "The publications of temporary orders such as these is a normal part of any road project of this scale and complexity.
"These temporary restrictions will allow the contractor to safely connect the new AWPR to the existing road network.
"Finishing works need to be completed and compulsory road safety audits, which can take several weeks due to the length of the new sections of road, have to be carried out in advance of the road opening.
"This is a complex process and, as with other major road construction projects, can take some time.
"Further details will be made available once this process is complete and the opening dates can be confirmed."