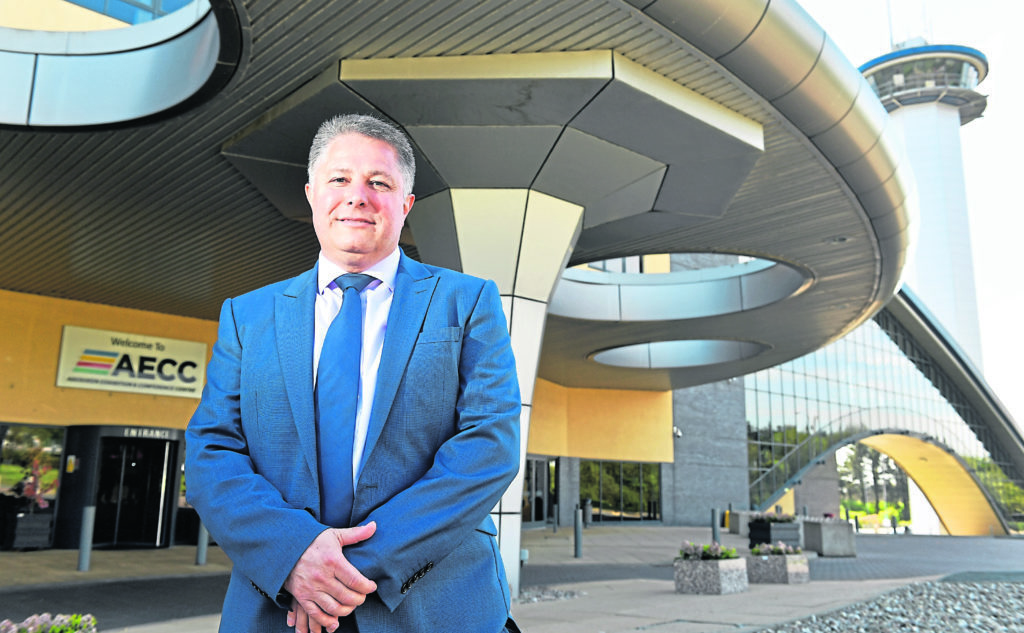 Aberdeen's new £333million conference centre will "without question" boost hotels hit by the oil downturn, according to its managing director.
Figures released in April from accountancy firm BDO showed Aberdeen had the worst hotel occupancy rate in the UK last year.
More than one-third of rooms in the Granite City were empty last year, with hotels in Europe's oil and gas capital only 63.4% filled.
That compares to 76.9% in Inverness and 85.3% and 83.2% respectively in Edinburgh and Glasgow.
However, TECA – The Event Complex Aberdeen – will open its doors in Summer 2019.
Nick Waight, who is head of the current AECC and will manage the new centre, believes it will bring a welcome boost to the city's hotels.
"Without any question. Our remit is to bring conferences which have multiple nights, so absolutely that will help drive occupancy in the city.
"It's very important it's not just hotels within Dyce but hotels across the whole city.
"We're working with the hotel federation, making sure those guys know what we're doing and we know what they're doing, it's quite a joined-up approach.
"Absolutely we will see an increase in activity in the hotels from us."
The new venue is based in Dyce, where a number of new hotels have popped up since the oil price crash in 2014.
However, Mr Waight added that the benefits of TECA will only go so far.
He added: "Will it sustain all the hotels 365-days of the year and make them completely full? No.
"That's not what we're here to do.
"We're here to impact and drive forward business and we absolutely we're doing that."
Mr Waight said the new venue is an opportunity for oil and gas firms to take advantage of a "world class venue on its doorstep" and hopes to bring more national conferences to Aberdeen.
"There's got to be opportunity to rally around and say, even if you are having a national conference that was taking place in London or Manchester or Birmingham before, why not make sure you bring that to Aberdeen?
"We're really well-connected now regionally with the airport. We've got rail, we've got the AWPR opening, so why not try and get some of those national conferences that weren't taking place in Aberdeen and get those up here?
"That would be our big sales pitch to the oil and gas industry, to make use of this world-class facility on our doorstep."
OFFSHORE EUROPE
One of the biggest events in the oil and gas calendar will come around shortly after the new venue launches next Summer.
Offshore Europe (OE) is scheduled for next September and Mr Waight believes the new centre will provide a more bespoke offering
"OE is always a test, it's such a big event. It's so important so focus is always incredibly strong.
"This is such an important event for us as a business but also Aberdeen and Aberdeenshire. We can't fail with it, it's too important.
"TECA is the next evolution of what the conference meetings and entertainment market is now looking at.
"If you look specifically at what we provide for Offshore Europe, there's an awful lot of tented structures and we have to bring in temporary services, and it becomes quite a difficult event to stage.
"The idea of moving into TECA means that becomes a lot more bespoke and offers a much more robust and higher quality to the participants."
He added the success of the biennial event will be measured by whether the 2019 event brings more demand for the future.
"The people who judge it will be the organisers. Saying, 'have we provided them the easiest accommodation in terms of staging it, have the visitors attending had the best experience?'
"Ultimately that will translate in 2021 if they get a higher uptake and more people wanting to come. That will be the acid test to all of this.
In terms of bringing more events to Aberdeen, Mr Waight is hopeful that All-Energy could again come to the city, despite the decision ultimately resting with organisers.
The event moved to Glasgow in 2011 and the contract for next year is under review.
Mr Waight added: "All-Energy is run by Reed Exhibitions and it's up to them where they hold All-Energy.
"Would we love to have it back? Of course we would, but it's not our decision, it's Reed's.
"We have a great facility that can stage it, but at the end of the day that's their decision and they need to make that."
TECA factsheet:
TECA, which comes at a £333million price tag, will boast a 12,500 capacity arena, and 48,000 square-metre exhibition space.
Up to 5,000 people will be able to attend conferences at the venue in Dyce, which will also have two on-site hotels.
The venue is "extremely environmentally friendly" with its own energy centre, allowing it to harness renewable resources.
TECA is managed by SMG Europe, which operates more than 240 venues worldwide including Manchester Arena, First Direct Arena in Leeds, Bridgewater Hall, Bonus Arena in Hull and the Metro Radio Arena in Newcastle.
Last month, Aberdeen city council co-leader Jenny Laing described it as "one of the most significant developments in the history of the city".
The building was designed following discussions with industry experts and learning from similar facilities such as The Hydro in Glasgow.
Designers say it will be a multi-purpose space to host a large range of "exhibitions, entertainment and sporting events".