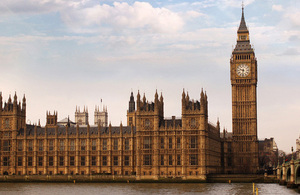 A cross-party group of politicians are calling on the Government to set a target to cut overall greenhouse gas emissions to zero before 2050.
Some 132 MPs and 51 peers have signed a letter organised by Conservative MP Simon Clarke urging the Prime Minister to strengthen the UK's long-term climate target, which currently requires emission cuts of 80% by mid-century.
The politicians say a tougher target, in line with the UK's commitments to tackle climate change under the global Paris Agreement, will put the country "at the forefront of the race for investment in clean industries".
They want to see a goal of "net zero" emissions, which means pollution is cut to as near to zero as possible and any remaining emissions are taken out of the atmosphere by measures such as planting trees, set for before 2050.
In a letter to the Prime Minister, they argue implementing a net-zero emissions target for before 2050 will cut bills by improving energy efficiency, get rid of polluting exhaust pipe emissions and protect UK woodlands and wetlands.
Signatories include Liberal Democrat leader Sir Vince Cable, former Labour leader Ed Miliband, shadow business secretary Rebecca Long-Bailey and former Tory cabinet ministers Justine Greening, Damian Green and Nicky Morgan.
Mr Clarke is handing in the letter to Number 10 on Tuesday with a cross-party delegation including Labour's Mary Creagh, chair of the parliamentary Environmental Audit Committee, and Green Party MP Caroline Lucas.
The letter says: "Setting ourselves the goal of net zero emissions will put us at the forefront of the race for investment in clean industries, creating jobs all around the UK and inspiring the next generation.
"A net-zero emissions target, fully implemented, will cut energy bills by improving the efficiency of our homes and businesses, it will get rid of the exhaust pipe emissions that pollute the air we breathe, and it will help to bring about the restoration of our natural habitats so they become stores of carbon, from forests to peatlands."
The Government has said it will review its long-term target to cut climate emissions to meet its Paris Agreement obligations, raising the possibility the UK could implement a target to reduce emissions to net zero by 2050.
The Government's independent advisory Committee on Climate Change has suggested the UK would have to meet the net-zero target by 2045-2050 in order to do its bit to ensure global temperature rises do not exceed 1.5C.
Mr Clarke, MP for Middlesbrough South and East Cleveland, said: "The recent heatwave in the UK and across Europe is a clear reminder that we must continue to face up to the reality of climate change.
"To bring our climate back into balance we have to finally end our emissions.
"We have led the world in confronting this problem and can lead in solving it, drawing on our engineering and scientific prowess that will help bring us to net zero."
The call comes as the UK holds an electric vehicle summit to kick-start emissions cuts from transport, and ahead of the 10th anniversary of the world-leading Climate Change Act which set down the 80% target in law.
Recommended for you

OGA launches £1m platform electrification competition