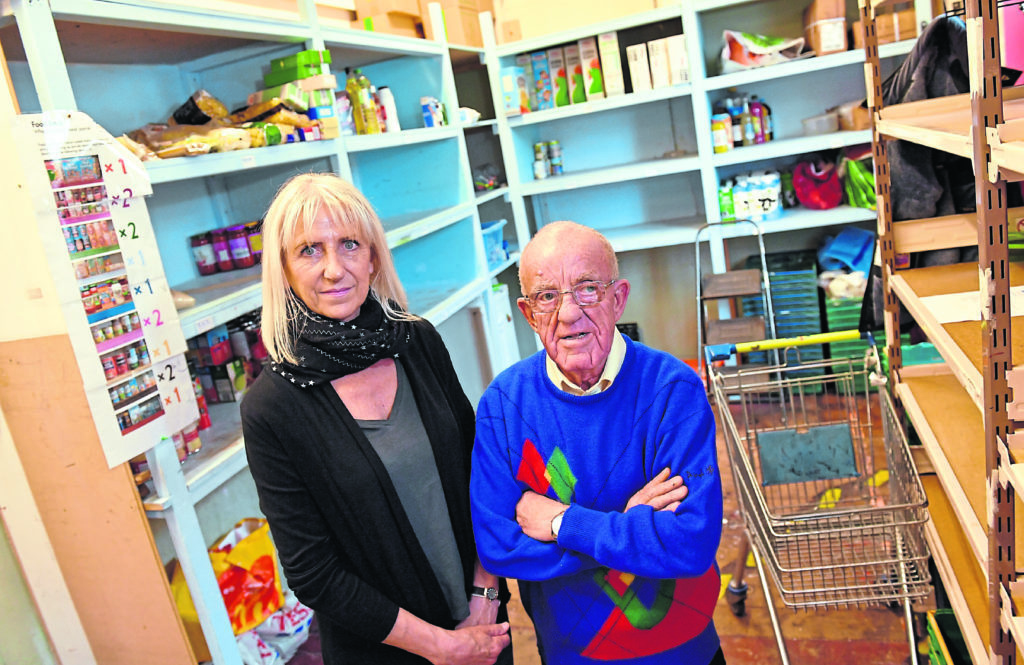 Oil-rich Aberdeen is now home to 20 foodbanks, outnumbering other Scottish cities, shock figures have revealed.
The energy capital of Europe has long enjoyed a reputation for highly-paid jobs and relatively low poverty levels compared with the rest of Scotland.
But now in a new leaflet about universal credit, the city council has listed 20 organisations where free food parcels can be picked up.
In contrast, Edinburgh has only six foodbanks listed online, although churches and other charities may also give out packages.
Other areas of the north-east have also seen a rise in foodbanks since the oil and gas downturn of 2014, with the likes of Banchory, Inverurie, Ellon and Peterhead also giving out free food.
Last night, politicians claimed there was "hidden deprivation" in the region – which will only worsen following the controversial rollout of universal credit.
But a business leader said some confidence appeared to be returning, with the oil barrel price now over $80 – from a low of below $40 at the end of 2015.
He noted there is a "lag" effect where it can take some time of improved fortunes before people feel the benefits in their pockets.
However much poverty is deeply entrenched.
In February 2016 the P&J revealed shock figures that residents in the affluent community of Mannofield live on average nearly 17 years longer than those in the poorer Woodside area of the city.
The universal credit system is due to replace many existing benefits but has been criticised for the long delays in payments for some.
Last night Aberdeen Donside Independent MSP Mark McDonald said: "The fact we have 20 organisations operating food parcel relief in the city shows the level of poverty which continues to exist in Aberdeen, masked by the wealth that is generated for some.
"There is a genuine concern that, as the economy of the north-east improves, not everyone is seeing the benefits and many are at serious risk of being left behind, something which will only be compounded further by the rollout of universal credit.
"The very fact the Tories have had to give additional money to Citizens Advice shows that this policy is a failure and it should be ditched before any more damage is done."
Debbie Rennie, manager at the Aberdeenshire North foodbank, believes the oil and gas downturn has taken its toll on households outside the city too.
She said: "We already have three centres at Ellon, Inverurie and Huntly and the Peterhead one had a soft opening a couple of months ago.
"I think there are misconceptions about Aberdeenshire.
"There is money but there are also pockets of deprivation.
"The oil and gas downturn has been a contributor, I think, to the use of foodbanks."
Aberdeen North MP Kirsty Blackman said: "It is shocking how much poverty can really be found in Aberdeen.
"It's obvious that, with 20 foodbanks listed in our city, nowhere is safe from the austerity-obsessed Tory government.
"The calamitous implementation of universal credit on top of the capping and freezing of benefits will serve to drive more people into worse poverty and deprivation."
But Conservative north-east MSP Tom Mason said: "The whole point of universal credit is to get more people into work and to make sure that work pays.
"However, we know there have been some issues with the rollout.
"The vast majority of payments are made online, but some people have experienced difficulties.
"The state cannot and should not work in isolation, and this money will ensure that people in Aberdeen and all across the UK get the best possible support."
A UK Government spokesman said: "With universal credit, people are moving into work faster and staying in work longer than under the old system.
"Since 2010 over 3.3 million more people are in work across the UK, and the proportion of people in Scotland living in absolute poverty is at a record low, including for children.
"The reasons for foodbank use are complex, so it's misleading to link them to any one issue. The best way to help people improve their lives is to support them into work, and universal credit gives people the flexibility to increase their working hours while keeping more of the money they earn. The Scottish Government now has significant welfare powers, including to top up existing benefits, pay discretionary payments and create entirely new benefits altogether."
Adrian Watson, chief executive of the Aberdeen Inspired business body, said there were some early signs of recovery.
He said: "I think there is still some way to go but the feedback we are getting from businesses is that they are beginning to feel things stabilise a bit.
"It is still very much a mixed picture and we are not complacent at all but we are hopeful."
Recommended for you

Exclusive: Over a third of North Sea workers too heavy for lifeboats