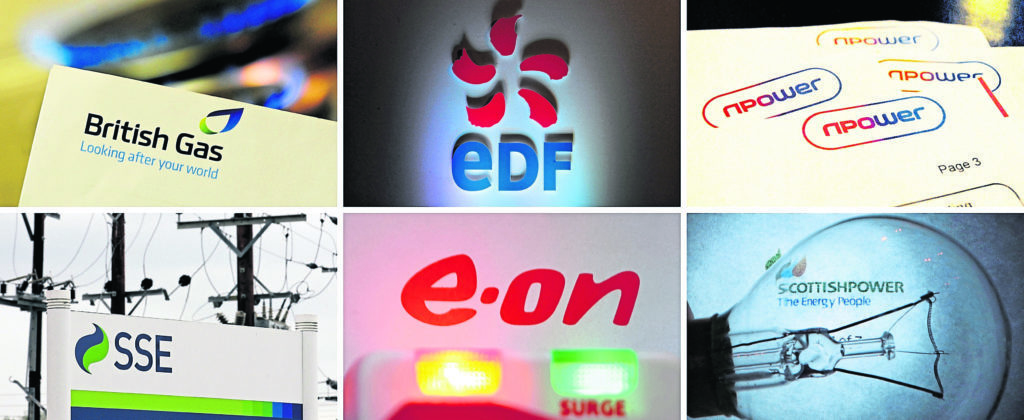 The Big Six energy suppliers have seen profits fall for the first time since 2014 as customers flock to smaller competitors, but more than half of households remain on poor-value default deals, the regulator said.
Annual profits of SSE, EDF, British Gas, Npower, E.On and Scottish Power dropped by 10% last year to £900 million as their market share fell to a new low, Ofgem's annual State of the Energy Market report said.
A quarter (25%) of energy customers are now with small and medium-sized suppliers after switching away from the Big Six, Ofgem figures show.
However, as of April this year, more than half (54%) of households were still on a poor value default deal compared to 57% of households in October last year.
Ofgem warned that many customers in vulnerable circumstances, including those on prepayment meters, continued to be the most likely to be paying over the odds for their energy.
A survey of more than 70,000 customers by the regulator found that one in 10 prepayment customers "self-disconnected" from their electricity or gas supply because they did not top up their meters.
Ofgem said it will be launching a call for evidence next month to find out more about self-disconnection, including whether suppliers are doing enough to help these customers.
While 41% of respondents to Ofgem's latest annual Consumer Engagement Survey said they had engaged in the market to some degree, for example by switching, this fell to 32% of those living in rented social housing and 32% of households using prepayment meters.
The report also found that one in every five customers (19%) living in private rented housing are in fuel poverty, higher than any other type of households and almost twice the overall average.
The report also shows that average household energy consumption continued its long-term decline last year, falling by 5.5% for gas and 3.3% for electricity, partly as a result of homes being better insulated and milder winters, although Ofgem said it could also be driven by customers turning off heating and lights to save money.
The Beast from the East in March increased heating demand across the country to its highest level since 2010, but electricity and gas networks were resilient with sufficient capacity to meet demand, Ofgem said.
Dermot Nolan, chief executive at Ofgem, said: "We have witnessed many positive developments in energy over the last year, but the market is still not delivering good outcomes for all, especially the vulnerable.
"Ofgem has introduced the safeguard tariff which ensures that five million households, including some of the most vulnerable, pay a fairer price for their energy. Price protection will be extended to a further 11 million customers on the worst deals.
"We will continue to facilitate the transformation of the energy market to ensure that benefits are captured for all consumers and ensure no-one is left behind."
Energy and Clean Growth Minister Claire Perry said: "We're determined to protect vulnerable consumers when it comes to their energy costs. This report shows fewer households are on rip-off default tariffs as more people choose to switch suppliers, saving hundreds of pounds on their bills.
"But many customers, including the elderly and those on low incomes, are still paying too much which is why we're introducing the energy price cap to protect over 11 million households from poor value deals this winter and further bring down the £1.4 billion a year that customers have been overpaying the Big Six."
Recommended for you

Energy price cap to be updated quarterly ahead of 'challenging winter'