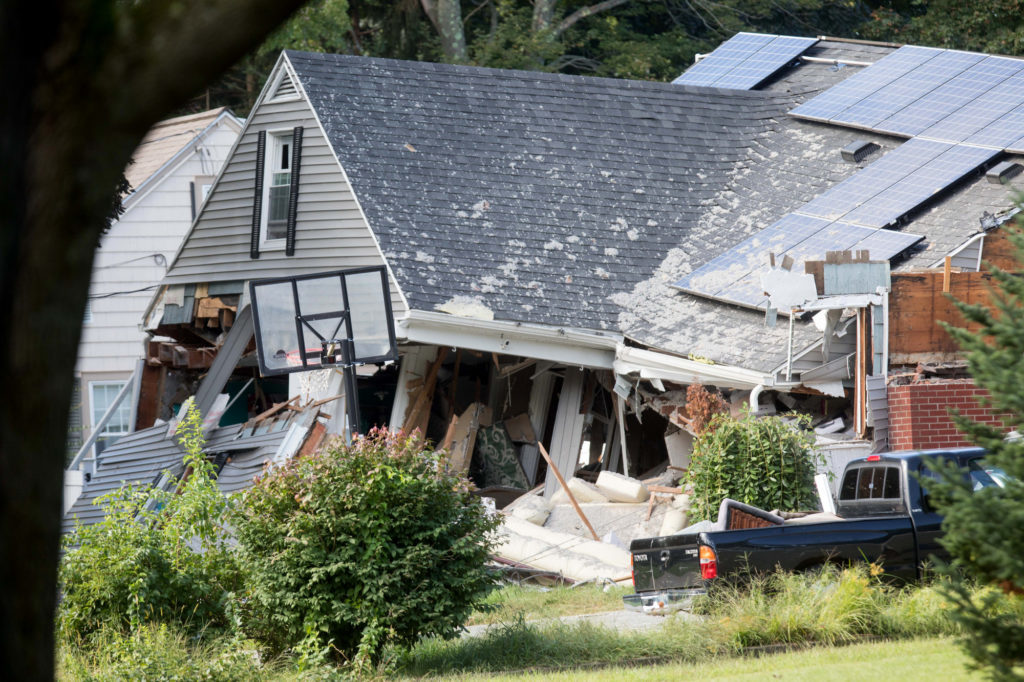 A Senate oversight panel next month will convene a hearing to probe the series of explosions in September that rocked several towns north of Boston, an incident that federal investigators have linked to work orders by NiSource Inc.'s Columbia Gas unit that was replacing natural gas pipes when the blasts occurred.
"The company was woefully unprepared for a disaster of this magnitude," Senator Edward Markey, a Massachusetts Democrat, said in a press conference Friday. Markey held up a copy of the National Transportation Safety Board's preliminary report on the blasts, which was released Thursday and he said showed "Columbia Gas did not do enough to prevent this and did not respond fast enough to the disaster."
According the NTSB's report, crews contracted by Columbia Gas of Massachusetts, including an inspector from the company, were replacing a cast-iron distribution main with a plastic one on Sept. 13. When the workers removed a section of pipe containing pressure sensors, the system mistakenly registered a drop in pressure and compensated with a surge of gas into the pipes beyond maximum levels, the report said.
The ensuing chain reaction of explosions killed one man and damaged 131 structures.
The work order developed by Columbia Gas "did not account for the location of the sensing lines or require their relocation to ensure the regulators were sensing actual system pressure," according to the NTSB report. It didn't reach a conclusion on the cause of the blasts that are still under investigation.
Markey said the hearing will be held in Massachusetts near where the blasts occurred and will ask pipeline safety officials what happened and whether additional measures are needed to prevent future disasters. A spokesman for the Senate Commerce committee's Republican majority confirmed a hearing was planned.
The leaks occurred in a pipe network that served about 8,600 customers, some of whom are still without gas service. It snaked through the towns of Lawrence, North Andover and Andover, located about 20 miles north of Boston.
Because sensors that were still attached to the old main that was being replaced no longer detected pressure, pressure regulators "fully opened allowing the full flow of high-pressure gas to be released" on the system supplying the neighborhood, according to the NTSB's report.
Bloomberg Intelligence: Massachusetts Explosions Put NiSource Targets at Risk
The day after the blasts, the U.S. Transportation Department's Pipeline and Hazardous Materials Safety Administration briefed U.S. House and Senate staff, according to one attendee who asking to not be identified because the call was private. Staffers were told the pressure on the system during the surge could have been up to 150 times the norm of 0.5 pounds per square inch, the person said.
NiSource President Joe Hamrock said in a statement that the company is limited in what is can say about the incident while the investigation is underway. "However, we can say that, because safety is our top priority, in the hours immediately after the incident we suspended similar work and enhanced procedures related to our low pressure systems," Hamrock said.
"I'm very proud of the strong, dedicated team driving the restoration effort in the streets and homes," Hamrock said. "We continue to expect completion by November 19th."
NiSource shares were at 24.30, down 1. percent, at 1:03 p.m. in New York trading. Shares fell 1.7 percent on Thursday, roughly in line with its peer group.
Earlier: Boston Gas Explosions Highlight Stalled Pipeline Safety Push
Charles Fishman, an analyst for Morningstar Inc., said in an interview that lawsuits and fines are likely to reach $100 million. NiSource will probably ask regulators for permission to speed up efforts to replace old pipe, a move that could boost earnings, he said. Fishman has a hold rating on the stock with a $26 price target.
"They'll fine them something, and they'll accelerate the capital expenditure," Fishman said. "It pretty much washes out in my mind over time."
Markey said families and businesses damaged by the explosions should be "fully compensated" by Columbia Gas.
What happened in Massachusetts "cannot and should not ever happen," Randy Knepper, director of safety and security at the New Hampshire Public Utilities Commission, said in an email Thursday. "Pipeline safety is built around the cornerstone of never over-pressuring a system" and much of that depends on communications and monitoring of different systems, he said.
The New Hampshire PUC issued a directive to operators to review all safeguards in place and analyze every possible scenario caused by excess pressure, and to provide responses within 60 days, Knepper said.
Last week, the New Jersey Board of Public Utilities convened a meeting with the state's gas companies to discuss safety protocols in place related to pressure issues and to share any intelligence from the NiSource blasts, James Giuliano, director of the reliability and security division, said in an Oct. 10 interview.