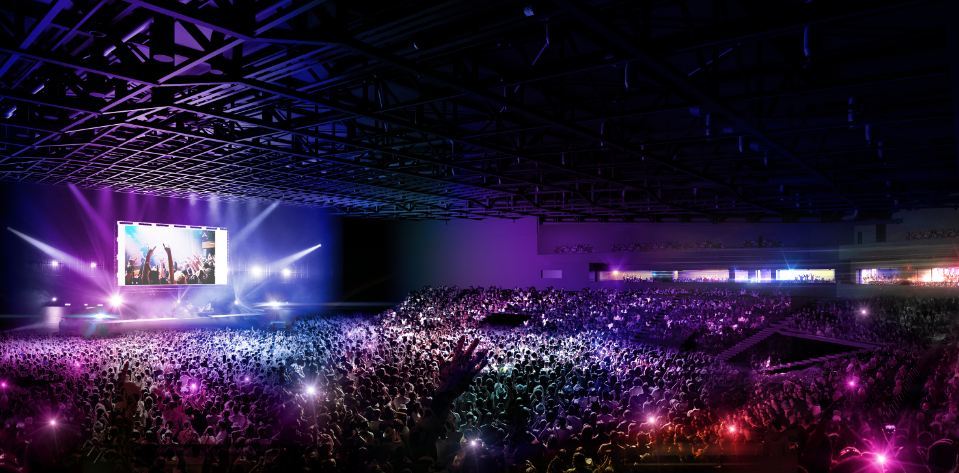 Developers have marked a "major milestone" in the creation of the new AECC by unveiling images which offer a glimpse inside.
Work on the interior of The Event Complex Aberdeen (Teca) is now under way, as the £333million venue undergoes its transformation from a construction site into a 12,500 seat arena intended to attract some of the biggest names in entertainment.
Yesterday, project leaders celebrated the progression of the scheme by revealing artist impression images of the restaurant and arena.
The latter depicts a huge auditorium bathed in a purple glow, with several spotlights facing the stage as if during a pop concert.
Aberdeen City Council has partnered with Henry Boot Developments to create the venue, and the property firm said the images would raise anticipation for its eventual opening late next year.
Company director Nick Harris said: "These new images of the arena and restaurant are an exciting glimpse into how the facility will look when it opens.
"Work is continuing to progress on schedule, with finishing touches being made to the roof, and it's amazing to think that in a few months interior spaces like these will really be taking shape."
AECC and Teca managing director Nick Waight added: "It's fantastic to see Teca coming to life in these new images, with less than a year to go until it opens."

The main arena will host conferences, exhibitions and music concerts, and is expected to attract major artists and events to the city.
The facility will also boast three further halls for conferences and exhibitions, four multi-purpose conference rooms, and 15 meeting rooms.
It is expected to contribute an additional 4.5 million visitors and £113million of visitor spend.
Aberdeen City Council co-leader Douglas Lumsden said: "The new venue is an important part of a period of enormous transformation for the city."
The chief executive of Robertson Group, Derek Shewan, said plumbers, electricians, painters and other contractors are now at work transforming the space inside.
In August, Henry Boot Development said the project was on target to conclude on time and within its budget.
Last month, it was confirmed that Rod Stewart would bring the house down with one of the AECC's final gigs next June.