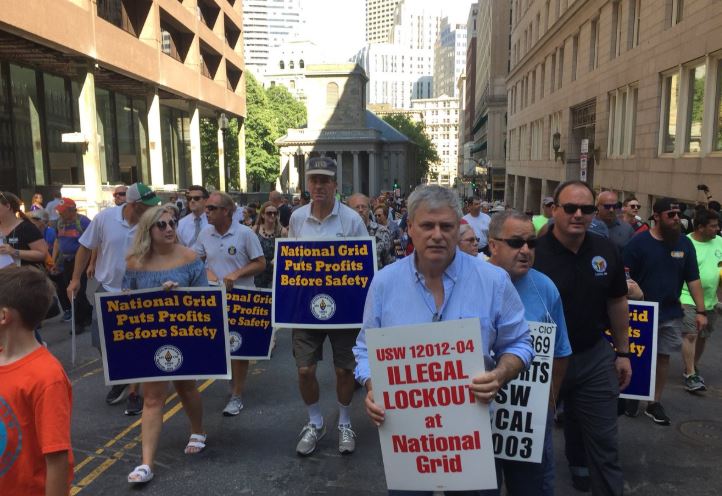 Workers union Unite has called on a Scottish local authority to back a worker protest against the US arm of the National Grid.
Unite the Union and America's largest industrial union United Steelworkers have written to City of Edinburgh council calling for support to end National Grid's "lock-out of 1,200 US workers" ahead of the company's half year earnings.
Lothian Pension Fund, Scotland's second largest local authority pension fund, is a shareholder in National Grid which is expected to announce record profits in line with its half-year results due to be published today.
Peter McIntosh, national officer at Unite, said: "As a leading UK company on the world stage, National Grid should uphold the highest corporate governance and worker engagement standards for employees in every country it operates in.
We call on all shareholders and the National Grid UK leadership team, including John Pettigrew CEO,  to work to end the lock-out immediately."
Unite claim the "lock-out" is an attempt by National Grid to "erode vital US employee healthcare, pension and pay entitlements" while cutting costs and denying workers' rights.
President of Boston's local branch of United Steelworkers Joe Kirylo added: "It's disturbing that National Grid would be eager to lock out experienced workers who are responsible every day for delivering competent, safe and reliable gas services. National Grid made billions of dollars in profits last year and the company just got Trump's massive tax cut.
"This lock-out is jeopardising the safety of residents and communities across the state. If National Grid refuses to end this irresponsible and reckless behaviour, it's time for the state to demand that the company do so."
Contract discussions between the US arm of National Grid amd unions broke down four months ago and more than 1,200 workers were locked out immediately.
Workers have been manning picket lines since as pressure grows on National Grid to solve the dispute which is threatening the company's reputation and safety record.
Recommended for you
X

Gaming expert appointed to drive north-east growth